Learn More & Save Time In Medical School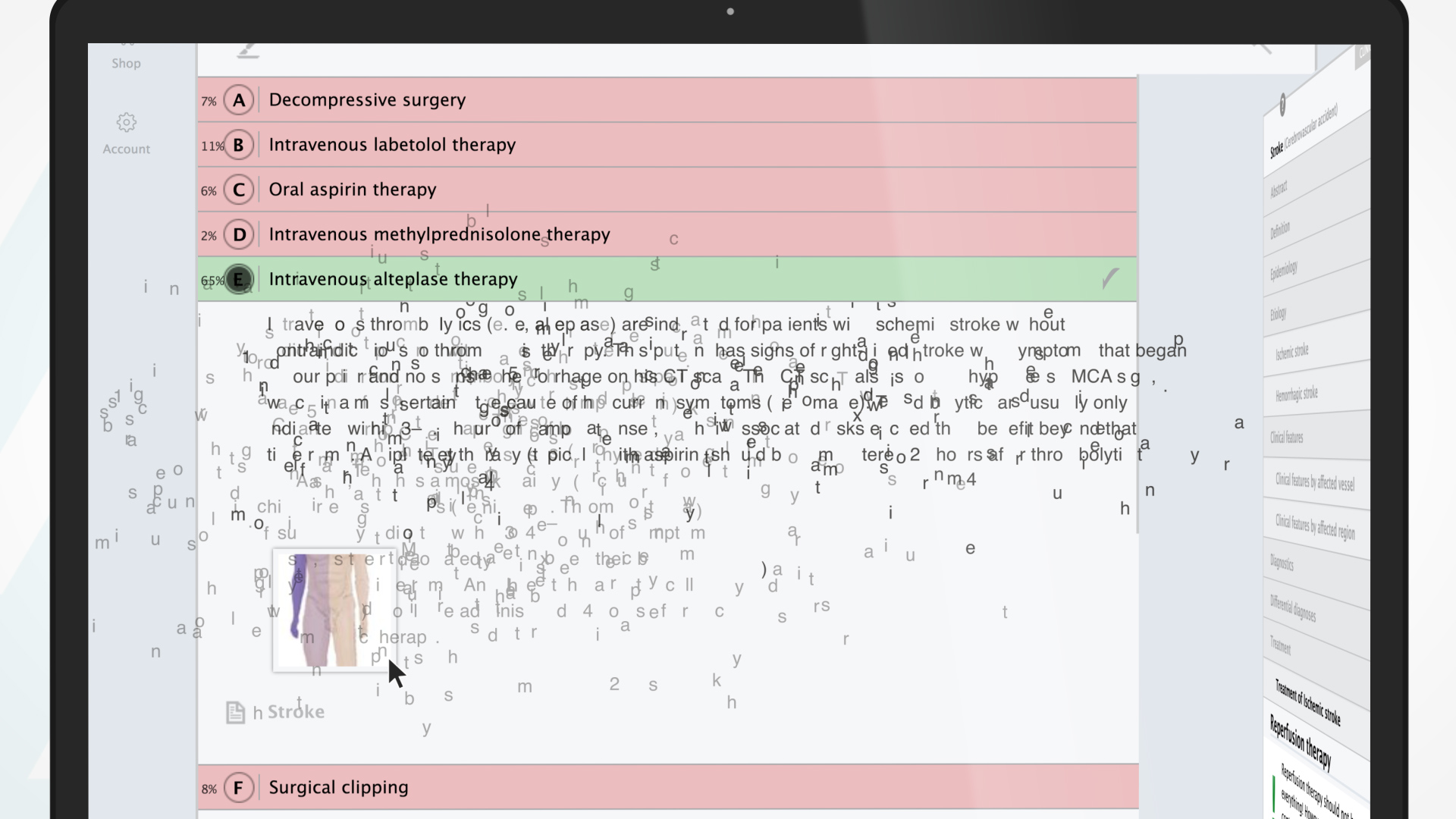 Did you know that our comprehensive Qbank is crosslinked with an extensive medical library? This means that every question within our Qbank directly corresponds with an integrated Article, giving you the option to dive deeper into any medically-related topic. You'll never have to leave our app to expand your knowledge – a feature no other medical learning resource offers. Here's how it works:
As medical students and physicians, we constantly find ourselves in competitive and high pressure environments, and go through an infinite amount of standardized testing. Due to these circumstances, it is tempting to just study for a test and choose to forget that we'll need to apply that same knowledge later on to help our patients. While strictly going through questions without reading into the context of a teaching objective is often sufficient to pass an exam, it makes confronting the real-life clinical scenario much more of a challenge.

Why is AMBOSS different than other study resources?
We often go into exams and new subjects with a highly variable amount of knowledge. For example, if you're a student who has already taken your Internal Medicine and Surgery Shelfs, you won't have to look up and read as much information while preparing for your Family Medicine Shelf, as opposed to a student that has not yet taken those exams. With Articles linked to each question, it is easy to get the entire context of a topic while, at the same time, quickly and efficiently brushing up on clinically relevant knowledge.
With short, yet high-yield explanations for all questions, you can be sure to cover the most important points for every exam and then, individually supplement this information by opening the associated Article. Unlike other study resources that contain long explanations for every question, AMBOSS allows for a more individualized way of learning. You can go into as much depth as you need, but without being forced to spend your valuable time on irrelevant concepts or on subjects you're already familiar with.
We realize that studying this way might make you think you'll miss out on important information. No worries – we took care of that! We provide individualized and detailed analytics for every study session. Your overall progress report will suggest important Articles that you should look at in more detail.
We also realize that many of you don't strictly study with questions. Sometimes it's nice to read over an entire topic and then go over questions. That's possible as well. Not only are our questions linked to our Articles, our Articles are also linked to our questions. So, if you've ever been pimped on the wards about a topic that you know nothing about, it's no longer an issue. At the end of your shift, you can go back and read over that particular topic's Article and test your knowledge by going through the associated questions. Next time your attending pimps you about it, you'll have the answer. Here's to impressing your attending every time.