Doctors That D.O.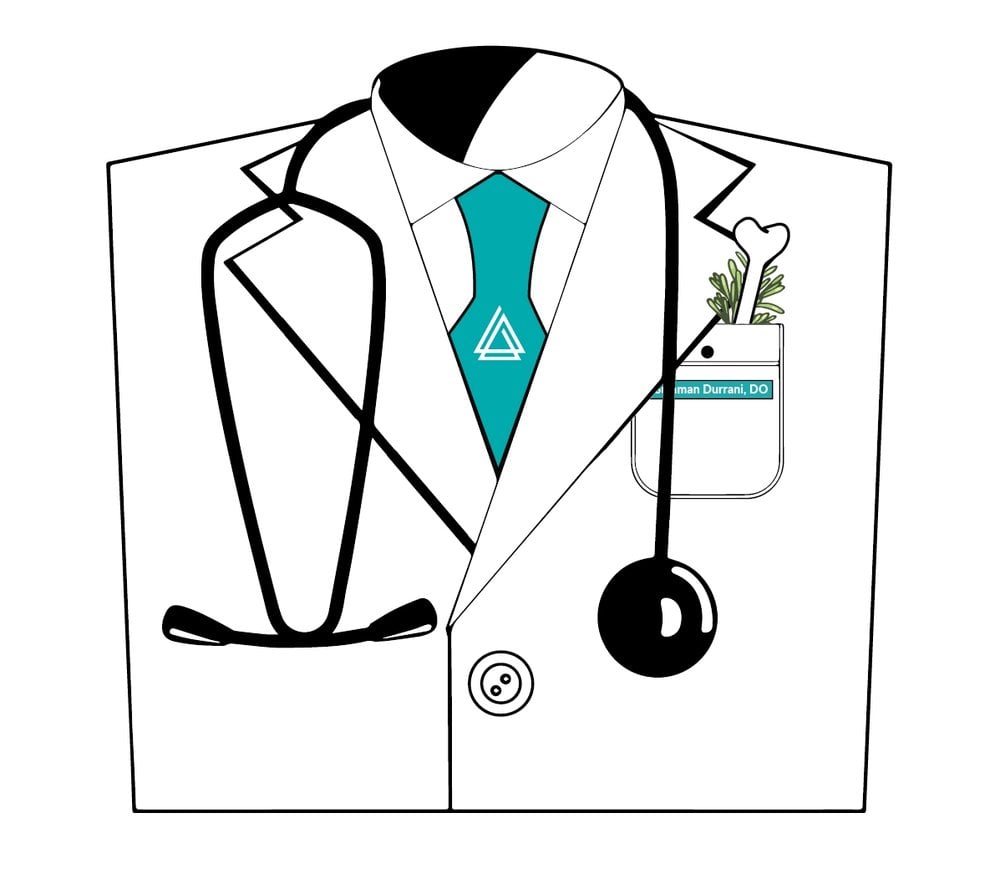 Doctors of Osteopathy (D.O.s) are one of the fastest-growing segments of healthcare professionals in the U.S. (Osteopathic Medical Profession Report, 2017). Is AMBOSS a suitable resource for D.O. students? We sat down with Sulaman Durrani, a D.O. medical student at Liberty University College Of Osteopathic Medicine (LUCOM), located in Lynchburg, Virginia. In this article, Sulaman explains why he chose to attend a D.O. school and which resources he uses to help him study more efficiently.
Why did you choose to study as a D.O.?
"What attracted me to osteopathic medicine was the holistic approach to treating all dimensions of the patient: mind, body and spirit. As I researched both D.O. and M.D. programs, the idea of treating the whole person, and gaining a deeper understanding of patient lifestyles and environments really struck me. LUCOM has been the perfect fit for me - a medical school that has, at its forefront, a mission to serve people with dignity and purpose."
What differs between D.O. and M.D. schools?
"D.O.s receive similar medical training as M.D.s, plus 200 hours of osteopathic manipulative medicine (OMM) training. OMM uses manual techniques to address the body's functional and structural issues, thereby allowing doctors to diagnose and treat illnesses and injuries. D.O. students must complete the comprehensive osteopathic medical licensure exam (COMLEX-USA®), while the United States medical licensing exam (USMLE™) is the preferred exam of allopathic residency programs. Upon graduation, osteopathic medical students must decide whether or not to take one or both exams – a decision largely determined by the competitiveness of the specialty they will pursue and whether or not they want to join an allopathic residency."
What resources are important for D.O. medical students?
"Anki has been a really helpful study method for me. It's a spatial repetition flashcard program in which users repeat information every three days. Additionally, I use SketchyMedical for visuals, as well as Pathoma and Boards and Beyond for video content. I also use multiple Qbanks, including AMBOSS, UWorld and Combank and Comquest - two resources that are specifically related to the COMLEX exam, which all D.O. students must take."
How has AMBOSS assisted you in your studies?
"As a D.O. student, I have found the AMBOSS medical library to be the most important feature. While other resources explain the 'what', AMBOSS explains the 'why' of treatments and diagnostics. This integrated approach has made studying easier for me. Since D.O. exams are similar to M.D. programs, Step 1-related material is really important. That's why I am looking forward to the release of your full Step 1 package. In addition, D.O. students must also study for the COMLEX exam. While the COMLEX exam is similar to the Step 1 exam, it covers more management- and primary care-related questions. The AMBOSS medical library contains detailed information on these types of questions, as well as pathophysiology content. Additionally, the difficulty level of your questions has been beneficial in helping me prepare for my exams. Many questions cover one specific topic, which allows for greater understanding of the subject matter. As all med students know, the more questions you study, the better you will perform!"
---
The United States Medical Licensing Examination (USMLE™) is a joint program of the Federation of State Medical Boards (FSMB®) and National Board of Medical Examiners (NBME®).
COMLEX-USA® is a registered trademark of The National Board of Osteopathic Medical Examiners, Inc.