Dr. Oboh Talks Tips for Medical Students: Acing Med School With AMBOSS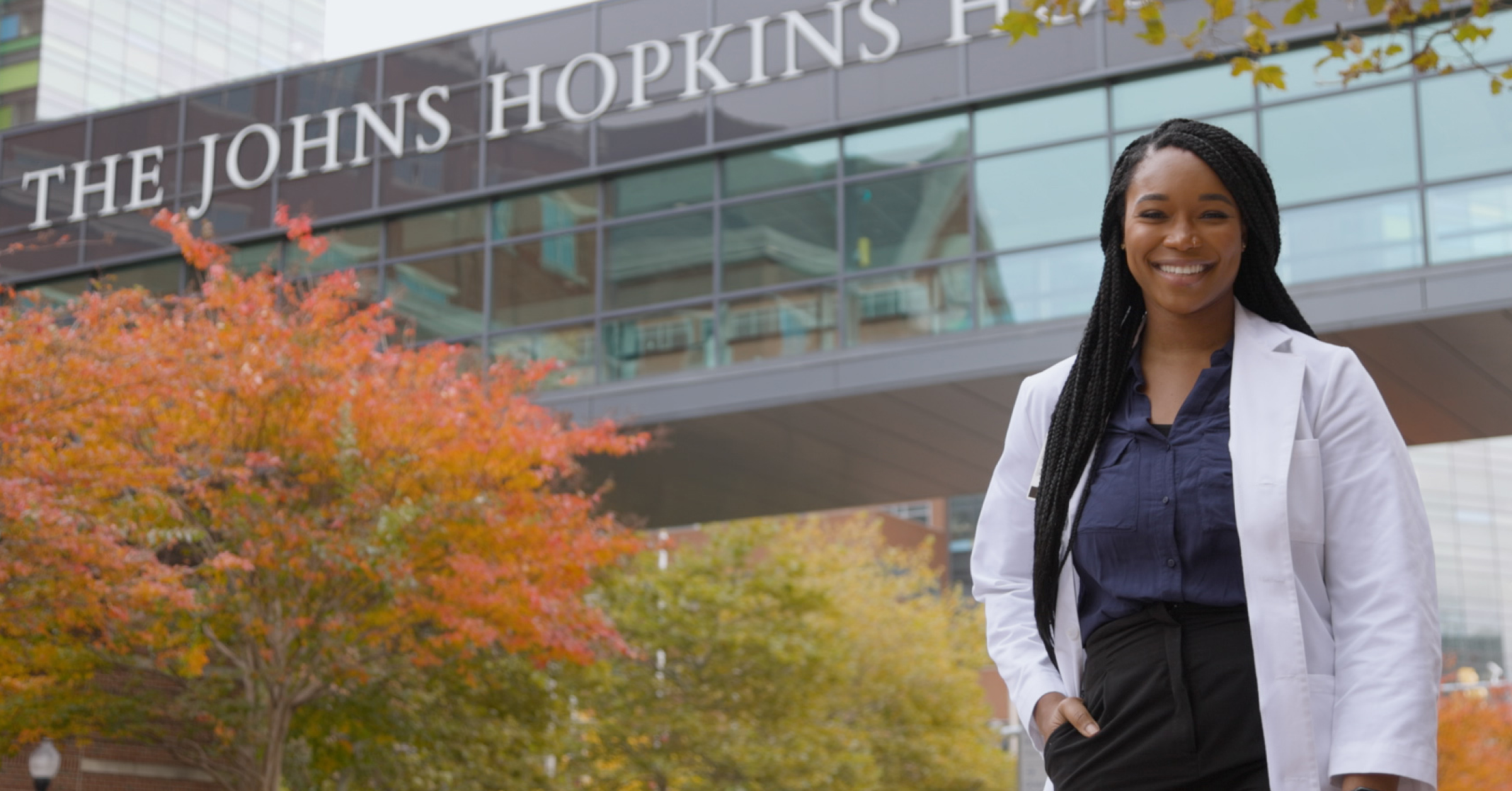 If there's one thing that every medical student needs to know, it's what those who came before them faced and how they tackled those challenges. Advice from physicians and upperclassmen is a bedrock for most students. Those in the know can provide advice on the best resources to choose, insights into USMLE® and NBME® exams, tips on preventing burnout, applying to residency—you name it. That's why we'd like to introduce you to your new AMBOSS guide: Dr. Osose Oboh.
As someone who recently matched into the Internal Medicine residency program at John Hopkins Hospital and a former student of Michigan State University, College of Human Medicine, there's no one more equipped to give you insights on navigating medical school and, ultimately, reaching your dream residency.
Osose recently checked in with MS3 students from top schools around the country—Alana, Alec, David, Laura, and Luis. Despite all their busy schedules, Osose was able to take the time to video call each student to chat about their med school experiences and share insights on what works and what doesn't. And thankfully, these calls were recorded so you can benefit from their insights, too! Topics they discuss include:
You can check out the highlights from their conversations with Osose below or watch their calls in this video series.
Beating resource overload with an all-in-one medical knowledge library and Qbank
As Laura, MS3 at Mayo Clinic School of Medicine, Minnesota, says: "Medical school—the best way to describe it is resource overload." With so many different sources of information, this is a common problem for med students. There is so much information to learn and one of the key skills is figuring out how to streamline it.
With a variety of Qbanks, video platforms, and textbooks to choose from, picking the right resource can be a daunting task. One medical student who is familiar with this question is Alana, MS3 at Meharry Medical College, Tennesse. "When I was relying on online videos and the textbooks, I was scrambling. I felt like I didn't have any time. I couldn't really get myself organized, get myself together. But AMBOSS [had] everything in one place. [I would use the] question bank [and I would do] biochemistry questions, and I automatically saw my scores taking… to the roof."
Laura had a similar experience streamlining her resources. "You have so much that you need to learn in so little time, and when you have 100 options… how do you choose? I feel like I was a little bit more disorganized before AMBOSS. What I like about AMBOSS is [that you have] everything all rolled into one… You don't need to have 20 tabs open, you know?"
AMBOSS has many features that make it an all-in-one resource and take away the need for multiple platforms. A few examples of these include (but are by no means limited to) the following:
Side-by-side view: This allows you to open a question and its explanation next to the relevant article. This is one of the most efficient ways to study as it means you can answer questions or fill in knowledge gaps without having to trudge through textbooks or spend valuable time searching through other resources.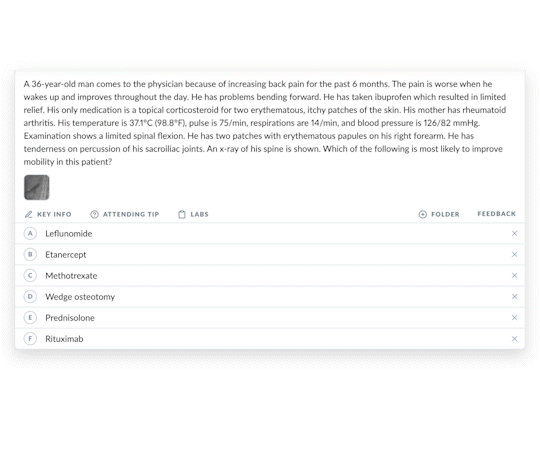 Anki add-on: With pop-up explanations and links to the AMBOSS library directly in your Anki flashcards, the

AMBOSS add-on for Anki

is a surefire way to unify your study resources and connect to high-yield info instantly.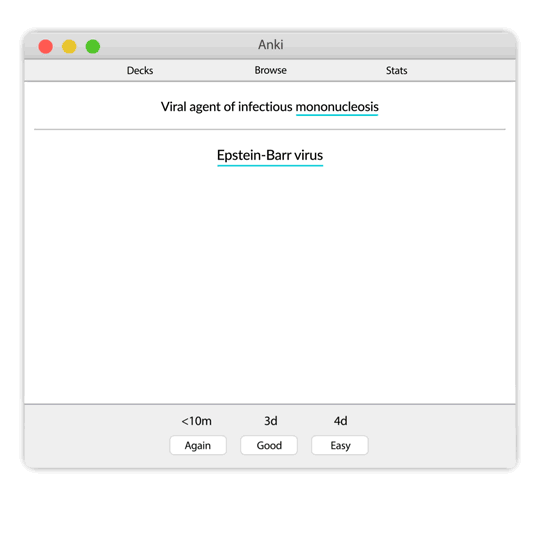 Choosing your medical resources — aim for efficiency
If there's one thing that medical students and residents don't have enough of, it's time. Days are spent studying, in the clinic, or in the classroom. On top of that, it's vital to take time off to prevent burnout and stay healthy. This is where having a unified study resource comes in handy. AMBOSS is comprised of a Qbank, medical knowledge library, and study plans for medical students. The combination of these elements in one resource will save you lots of valuable time.
Take it from Alana: "Before I started using AMBOSS, it was really just relying on lectures. It was really, what are the professors teaching us? What is available in our textbooks? And I felt like I had to bounce back and forth between… skimming an entire chapter to find one little tidbit of important information, as opposed to using AMBOSS.
"You can just search up… a keyword and it'll give you a full layout of the full disease or the full clinical picture that we need to focus on. And I think that was what really changed the game for me with AMBOSS."
Alec, a third-year student at Kansas City University of Medicine and Biosciences College of Osteopathic Medicine, agrees. For him, it was all about knowing what you don't need to know and AMBOSS helped him with that. "I [realized] it was high-yield because, as a first-year, that's so hard as there's all this information, like what you need to know about glycolysis? Do you need to know every single step and every single mechanism like you did in undergrad? No, you need to know the clinically-relevant steps and what's going to be affected, and all the metabolism and lysosomal storage diseases. You can study it forever.
"I think AMBOSS really helped me focus in on what's important [by] using the highlight feature [and] having my study objectives set as Step 1. So, it kind of guided me, and as I progressed through med school, I progressed through all of the things AMBOSS had to offer."
As well as the highlight feature, another time-saving tool is the high-yield mode in the AMBOSS library. Activating the high-yield mode condenses the information down based on your study objective. This means you no longer need to parse through long pieces of text to find the information that you need for your exams.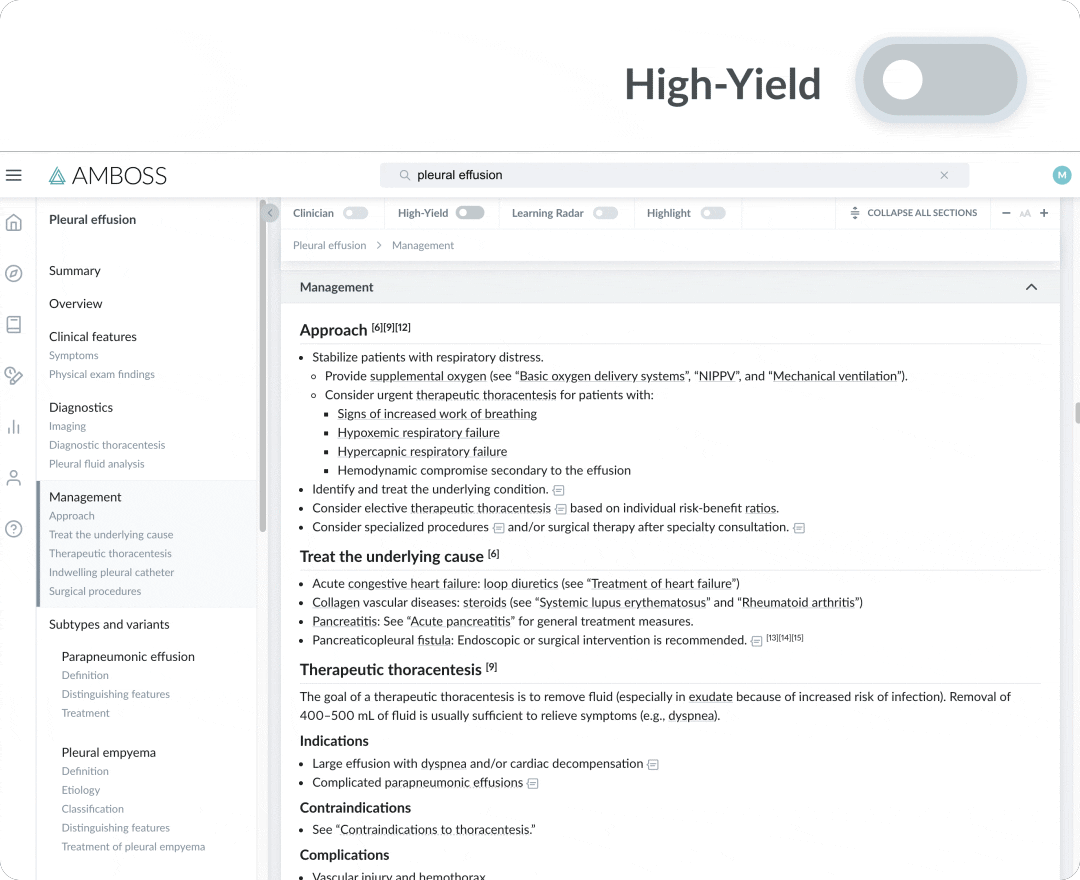 How to get the most out of USMLE-style practice questions in the AMBOSS Qbank
With +2,700 Step 1 questions and +3,100 Step 2 questions, AMBOSS is the go-to Qbank for all your USMLE preparation and NBME Shelf exam needs. The questions vary in difficulty. This is denoted by the number of hammers per question, i.e., one hammer signals the easiest questions and five hammers indicate the most difficult questions. Choosing the level of difficulty is a useful tool as it means you can practice questions no matter what stage of study you are in.
Luis, an MS3 student at the University of North Carolina Chapel Hill, tells Osose how he and his classmates project questions from the AMBOSS Qbank onto a big screen and answer them together. Explaining his process for correct and incorrect answers, Luis says:
"If I felt very confident in it, I'd skim through the answer and then keep going forward. But, if I was iffy about it, I'd look more into the details and figure out, OK, I was between these two [answers]. I've got to figure out why the other [answer] I was thinking… wasn't right. So I'd go through those choices. But then, if I got one completely wrong, then I had to read through everything and write down the topics that I got to hit again… If I kept seeing a trend [I was] like, OK, I keep missing this topic of the hepatitis serology. I keep missing this, I keep missing this. [Then] I'd watch a video or… do a targeted set later."
Getting familiar with answering questions early has been a crucial strategy for most of Osose's interviewees. As Laura noted, "I think the importance of doing questions early, getting into that question mindset, that strategy. You know, you have to learn how to be a good thinker to be a good doctor."
From the classroom to the clinic — your medical residency & clerkship companion
Whether you're in clerkships or residency, being able to quickly look up information can be a challenge as you can't drag big textbooks or heavy resources around with you all the time. This is where the AMBOSS Knowledge app comes in. It's an all-encompassing resource that fits in your pocket and even works offline. Let's hear from Osose about how she uses it in residency:
"The way that I'm using it now as an intern, is definitely using the Knowledge app as my Google. If I'm seeing a patient and they have something that I haven't seen in a long time, I just pull it up and it'll tell me the clinical presentation, the etiology, the epidemiology, treatments, complications—everything, all in one."
Laura found the AMBOSS app useful during those brief moments of downtime in her clerkships, too. "I'm on my surgery rotation right now, and… we were waiting for a pathology report to come back. And so, I had scrubbed out and I was like, "You know, I would love to practice knot-tying." And I couldn't remember how to do one of my two-handed ties. I was searching, and I realized on the AMBOSS Surgery Clerkship Guide, it actually had pictures of how to do the knot. So, I didn't need to watch a video in the middle of the O.R. I just looked at the AMBOSS picture and was able to practice knot-tying in the downtime while we were waiting for pathology to report back—which I thought was incredible."
The AMBOSS Knowledge app and Qbank app are available both online and offline (as Osose says, the offline function is a lifesaver when she is in the hospital's basement with no WiFi!). Ranked 4.8 on Google Play and the App Store, they are among the best apps for medical students.
---
Check out Osose's full interview series for more insights on succeeding in medical school and beyond.
---
Summary
Pick the right medical resource early on. This will help you beat resource overload and streamline the information.
Take into account your study style vs. the features offered by resources. Pick the resource that addresses the most of your needs. This removes the need for multiple platforms.
Keep efficiency top of mind — from looking up medical terms to practicing Step 1 questions. Create study plans that will help you save time and focus on the high-yield topics while also having the option to dive deeper into the information when needed.
Practice USMLE-style questions early on. Stay motivated by choosing a Qbank that allows you to adjust the level of question difficulty. Additionally, whether you're practicing USMLE Step 1 or USMLE Step 2 CK questions, the AMBOSS Qbank builds up your knowledge with explanations of the correct and incorrect answers. You can try the AMBOSS Qbank free for 5-days

here

. If you already have an account, go to the Qbank login

here

.
Pick a resource that supports your clerkship journey and prepares you for residency. The AMBOSS Knowledge app acts as your "medical Google" and go-to resource for checking information and learning concepts during downtime.