What I Learned From Taking the AMBOSS Step 1 Self-Assessment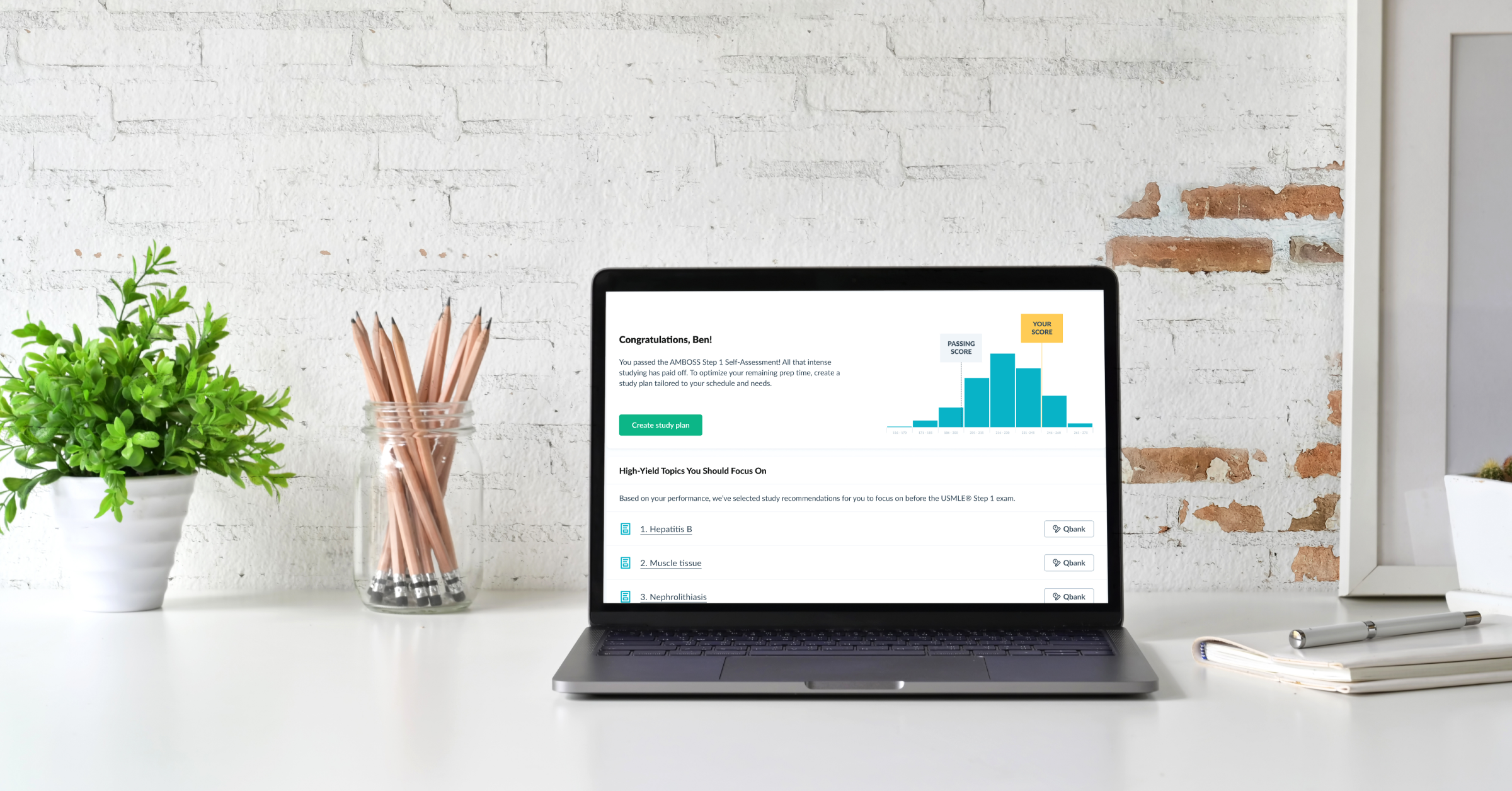 AMBOSS Step 1 Self-Assessment Week is back! If you're thinking about taking the self-assessment but are unsure what to expect, check out our interview with Madeleine O'Leary, a fourth-year medical student at the University of South Carolina who took it in 2020. Read Madeleine's interview below to get invaluable insights on studying for the USMLE® Step 1 exam and how to use your score report to prepare.
Describe your experience of taking the AMBOSS Step 1 Self-Assessment.
I used the AMBOSS Self-Assessment as a sort of jumping-off point to really get into the full swing of studying for Step 1 full time. Our school curriculum was still discipline-based at that point so at the beginning of the spring semester, I had only learned the pathology for half of the systems and I really didn't know much pharmacology at all. So, I went into the self-assessment knowing that I wouldn't be very comfortable with some of the material but hoping that it would at least give me some insight into whether I had a good grasp on the topics that I had already covered in my classes.
The self-assessment was four blocks, so I did the first two back to back and then took a break and finished the second two. That was the first time I did full blocks of 40 questions and it was harder than I thought! It definitely helped me recognize that I needed to build my mental stamina.
Overall, the AMBOSS Self-Assessment gave me some really good direction that I felt I was lacking. The score report breaks down your relative strengths and weaknesses by discipline and system and also provides a customized list of high-yield topics to focus on with a personalized QBank session that corresponds to that list. It really helped me to begin recognizing the high-yield concepts that I had been skipping over as well as the concepts that I had already mastered yet continued to waste time studying again and again.
How far out from the actual Step 1 exam were you when you took the AMBOSS Step 1 Self-Assessment and how did this impact your experience and preparation?
I took the AMBOSS Step 1 Self-Assessment in late February with plans to take Step 1 in mid-June. Until that point, I had really focused on doing well in my course exams and hadn't fully made the transition from studying for class to studying for Step (although, of course, there is significant overlap). I felt like the difference was in the variety of questions I was seeing. When I was studying for a pathology course exam, I knew the answer to every question would be found somewhere in my Pathoma book or in my pathology professor's PowerPoint and I could easily forget about all the pharmacology, microbiology, physiology, and anatomy that I had stored in my brain for my "other" classes. But after taking the self-assessment, I knew that when it came down to the real test, the questions wouldn't be neatly categorized by subject the way that I remembered the MCAT had been. That really helped me to transition from my very systematic method of doing practice questions to the more realistic approach with a random assortment of questions. This ultimately led me to discover more and more topics that I had yet to encounter.
How did the AMBOSS Step 1 Self-Assessment compare to other self-assessments that you have taken?
I took three self-assessments in total. I took the AMBOSS Self-Assessment months early and it helped me to direct my studying in the most productive way. Going into it, I knew the general areas that I felt strong in and the ones I needed to improve on. But the score report took it one step further and broke it down into specific subcategories. Instead of just a recommendation to review pharmacology, AMBOSS specified I needed to review chemotherapy agents. This simple thing made it so much easier to chip away at topics that I was uncomfortable with, subject by subject.
I took the first UWorld self-assessment about three weeks out from my Step 1 exam. I used this to make sure there weren't any obvious holes in my knowledge base that I could fix fairly quickly. For example, was I confusing nephritic vs nephrotic syndromes? Should I review that antibiotic video? That's where I felt I gained back the "easy points" that I might have missed otherwise.
I took the second UWorld self-assessment one week before the actual exam. This was really just for peace of mind.
How did you spend the time between taking the self-assessment and the real Step 1 exam?
After the AMBOSS Step 1 Self-Assessment, I started to use the list of high-yield topics that were recommended to me in my score report. I ordered them in a way that corresponded to what I was studying for in my course exams which I felt was super helpful. During the spring semester, a lot of people start studying exclusively for Step 1 and put course material on the back burner, but that just wasn't for me. I liked knowing I was learning something important for Step while still being able to pick and choose which topics were valuable for me in the short term.
I also used UWorld throughout the year which is helpful in terms of content exposure and evaluating yourself. But it doesn't offer much in the way of providing structure to a study schedule. When I noticed myself not doing as well as I expected on my UWorld blocks, I would go back to the AMBOSS study recommendations to help me figure out where I was going wrong. I would recommend that combination to anyone starting to prepare for Step 1.
AMBOSS study plans are incredibly helpful too. That feature was only launched shortly before I took Step 1 and I wish I had taken advantage of it sooner. These question blocks are great if you feel like there was a broad subject that you never fully grasped (for me it was the endocrine system). Now I use the study plans almost exclusively to study for my clinical shelf exams.
What advice do you have for students who are about to take the self-assessment?
I would definitely try to remember that the AMBOSS Step 1 Self-Assessment is simply a tool for you. I wouldn't wait until you feel "ready" to take it because there will always be material that you haven't completely mastered. Use the information and recommendations that you get from the score report to guide your studying. Make sure to review it thoroughly to identify any gaps in your knowledge. If you find yourself continuously missing questions on the same topic, pull up the library [article] and do the QBank session for that [article], it will really help solidify your understanding.
What advice do you have for students who are preparing for Step 1?
My practical advice: On the real deal, timing was a much bigger issue for me than I anticipated, especially because I never had any issues with timing on the practice tests or self-assessments. I would definitely recommend using the timed mode in any question bank that you choose to use right from the start. I think it will definitely get you into the habit of staying on pace and I think after a while it becomes almost intuitive and that can be a great advantage.
My personal advice: Studying for Step 1 can be extremely overwhelming and most people in your life can't even imagine what it is like to study from sun up to sun down for months on end. But when those people push you to take a break, take one. Your mental and physical health play a much bigger role in preparing for this exam than you think.
---
Preparing for Step 1? Get ready with this 30 day study plan that covers the highest-yield topics.
---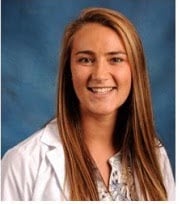 Madeleine O'Leary is a fourth year medical student at the University of South Carolina. Originally from Massachusetts, she came to the South in 2013 to pursue a Bachelor's degree in Biology from the University of South Carolina. She spent one year after college working with an NGO in Managua, Nicaragua where she gained a passion for education and community health promotion. Ultimately, she knew she wanted to return to the US to attend medical school, a dream she had since childhood. She is currently interviewing for an Internal Medicine residency position following graduation in May and plans to pursue a cardiology fellowship after residency.