On the Wards: Succeed in Clinical Rotations With the AMBOSS Apps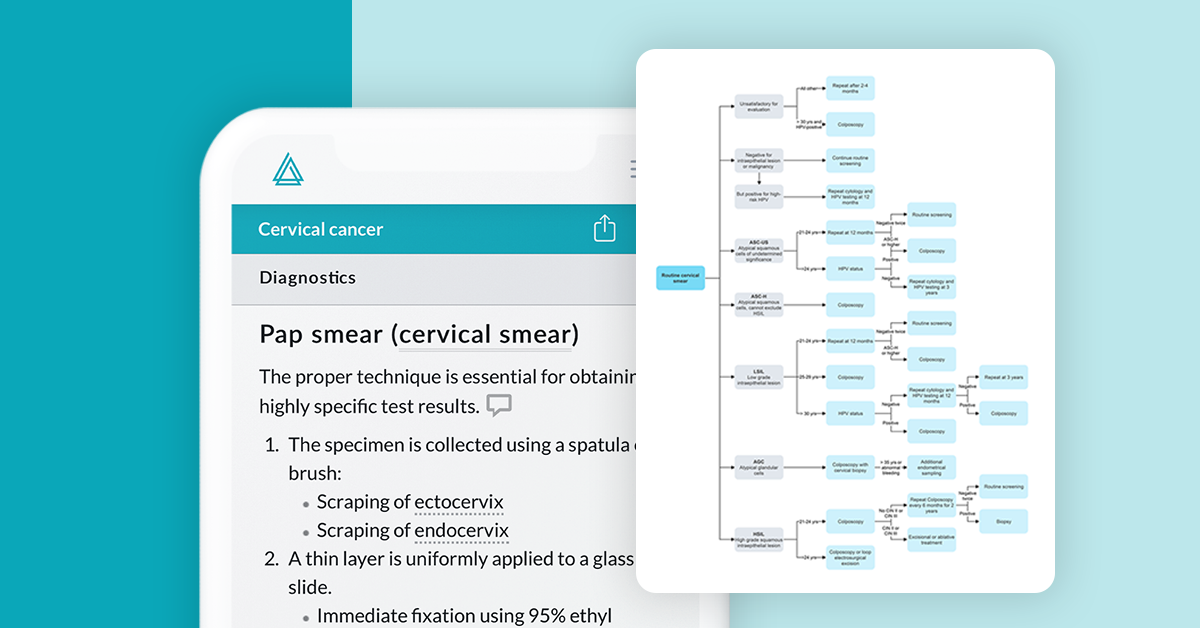 No matter the specialty, the clerkship period is full of challenging moments critical to your development as a clinician. To help you master these challenges, AMBOSS offers two apps that act as your clinical companion during the M3 and M4 years. They can be utilized in every clerkship, sub-internship, or general clinical scenario you may encounter.
First, you'll find the answers to your medical questions in seconds with the AMBOSS Knowledge App and its high-powered search function. Second, you can hone your test-taking skills and practice thousands of NBME®-style questions in the AMBOSS Qbank App.
Dive into the rest of the blog post to see exactly how they will help you succeed in your clerkships.
You'll learn how to:
Succeeding with the AMBOSS Knowledge app
Quick clinical consultant
The AMBOSS library articles are written with practicing medical students and doctors in mind. Consequently, each article contains clinical insights that can help you solve a wide range of clinical problems.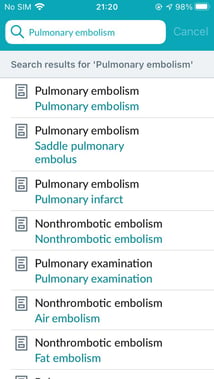 One feature that separates the AMBOSS Knowledge app from similar resources is the ease at which you can access the medical insights contained within each article. Core to this is the AMBOSS search feature, which trawls all of the content of each and every AMBOSS article.
A search within the AMBOSS Knowledge app will yield multiple suggested articles without you having to fuss over the exact spelling of each search term. After opening each article, you'll be presented with the article tree view that lets you expand the section of interest to you. Additionally, the AMBOSS Knowledge app contains a few features that make it useful to return to later on, such as lists of recently viewed articles and personalized favorites.
Presentation prepper
Whether fair or not (we'll let you be the judge), much of your performance evaluations will hinge on your ability to give coherent presentations that convey essential information to your care team. Of course, giving a presentation often turns into an opportunity to 'be pimped,' or have questions asked of you by your care team.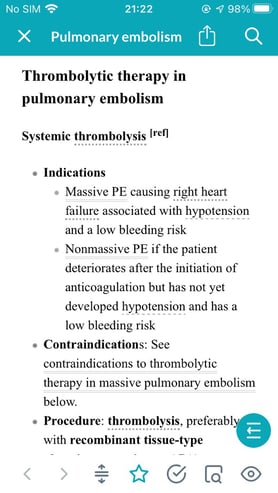 The Knowledge app can assist you in preparing for both of these challenges. Compared to other clinical resources, only AMBOSS packages this content in an accessible and easy-to-use format; whereas other resources will force you to dive into long paragraphs of text, AMBOSS' medical insights are contained with easy-to-use lists, tables, and charts.
On top of that, the scope of AMBOSS articles is more extensive than that of alternatives. Specifically, AMBOSS articles contain all the essential medical science content related to a condition's pathogenesis, epidemiology, diagnosis, treatment, etc. Insights from a wide range of topics will help you figure out not only how to best manage your patient's care, but also withstand any questioning.
For more tips and tricks on presenting patients, check out the AMBOSS Clerkship Survival Guide.
All in all, reading the AMBOSS article related to any patient you are presenting on is a great way to create prepared remarks and respond to impromptu discussions that may come up. Furthermore, the speed at which AMBOSS information can be accessed also empowers you to look up things on the spot, if the opportunity arises.
Confident clinical decisions
One aspect of becoming an experienced and self-assured clinician is gradually developing a 'feel' for clinical medicine. When this happens, many decisions and conclusions will come to you seemingly out of thin air. Until that happens, clinical medicine is marked by a series of doubts that come up as you try to make sense of the complicated situations around you.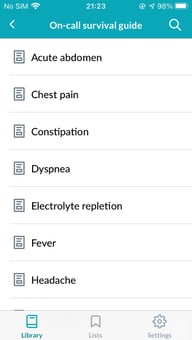 The AMBOSS Knowledge app contains several features that can help you find your bearing during difficult moments. To start, AMBOSS features a collection of articles designed to help you tackle some of the most urgent and vexing problems that can arise from a clinical situation. Some of the articles within the On-Call Survival Guide contain step-by-step instructions that you can follow to make a big impact.
On top of that, the Knowledge app features several articles related to the work-up of different chief complaints or findings. Within these articles, topics like fever and chest pain are broken down into logically organized sections that work through the issue's potential causes.
As with other AMBOSS medical content, these articles link to other articles that provide more information related to a particular condition. In general, links between content are helpful to a new clinician because they allow you to compare and contrast different information with ease. Until you develop your clinical instincts, this will save you lots of time and frustration.
Succeeding with the AMBOSS Qbank app
Time is stretched thin during the clinical years, and nowhere is this made more evident than the prep that students must undertake for the NBME® Shelf exams. Making time for Shelf prep can be challenging.
For students used to studying for longer sessions in a comfortable environment, this can be difficult. Those just leaving their period of dedicated Step 1 prep will be especially jarred, as there seems to be no good opportunity to engage in Shelf prep with similar gusto. The AMBOSS Qbank app can help solve this dilemma, by providing you with opportunities to practice bit-by-bit.
Like the AMBOSS web platform, the Qbank app contains teaching tools that can help you to make sense of each question. Using these tools can help you squeeze educational value out of questions that, at first, you are not sure how to approach. Because each person's clinical experience is different, this is more common than you might expect!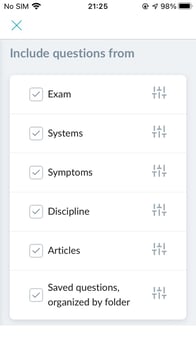 Furthermore, the AMBOSS Qbank app contains the same content filtering available within the platform. Perhaps you'd like to rehearse your approach to chest pain, but not complete questions from an unrelated clerkship? Engage both the 'Clerkship' and 'Symptom' feature to get content that meets your needs. Medical conditions can be studied with this same specificity.
On top of that, the AMBOSS Qbank app is well-integrated with the library app. Though AMBOSS's brief and to-the-point question explanations are well-suited for those studying in a clinical environment, it's only natural that further clarification is sometimes necessary. In that case, utilize the links featured in the explanation text to be instantly redirected to a relevant article within the AMBOSS Knowledge app.
In this and other ways, the AMBOSS Knowledge and Qbank apps synergize to act as the perfect companion for the clinical years. Feel free to use each app in ways that meet your specific needs. Be sure to share your experiences with us!