How to Use AMBOSS During Step 1 Dedicated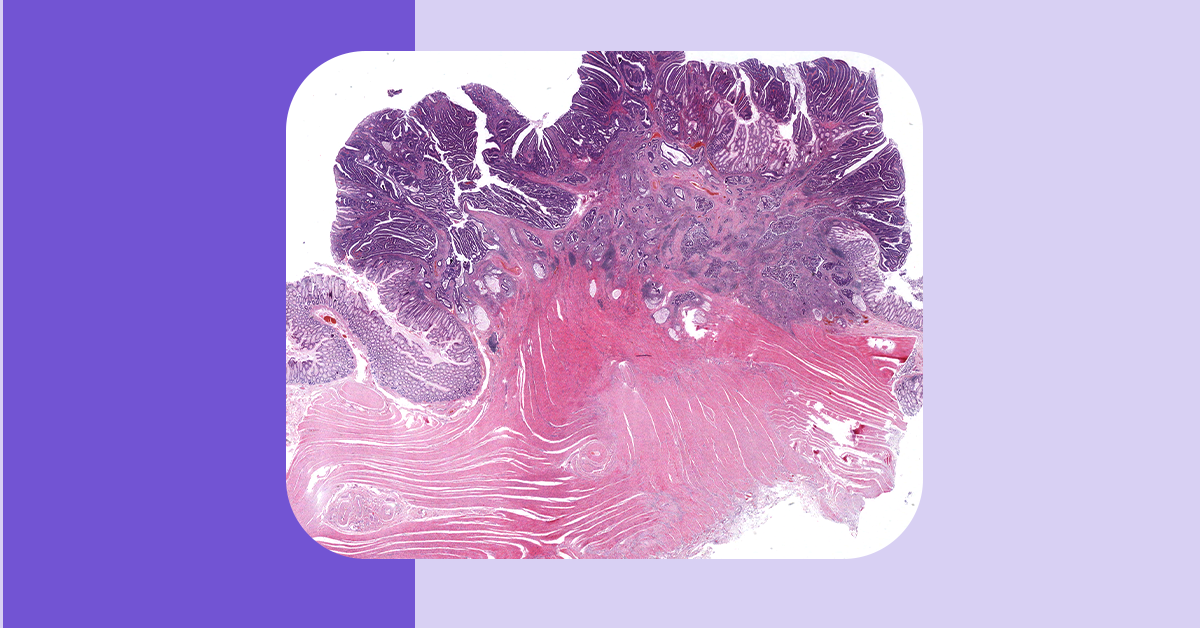 Last updated: Apr 4, 2022
Studying for the USMLE® Step 1 exam usually culminates in a set period of time when test-takers can set aside almost all other academic obligations and focus on their Step 1 studies. For those currently enrolled in medical school, this period of dedicated study is usually sandwiched between the pre-clinical and clinical years and lasts between four and 12 weeks.
The Step 1 dedicated period is the last chance studiers have to consolidate their knowledge base and refine their problem-solving skills. Fully utilizing your dedicated period is critical to Step 1 success and there's no better tool than AMBOSS to help you do it — in fact, AMBOSS was awarded an A grade in First Aid®️ for the USMLE Step 1 2020. Even if you don't have a dedicated period, it's there to help you in the final stretch. Here's how:
General tips for dedicated success
There is one factor that will influence your Step 1 performance during this period more than any other: balancing your exposure to knowledge (e.g., books, videos) and your practice of that knowledge (e.g, question banks).
This balance will differ from person to person. Individuals who attend a school whose curriculum closely tracks the USMLE® Step 1 content guidelines will likely have a solid foundation of knowledge prior to beginning their dedicated period. With the exception of reviewing some content covered much earlier in medical school, these individuals will be able to focus on practice questions to a greater extent than those from other schools.
One common pitfall is that students tend to spend too much time acquiring or reviewing new medical knowledge during their dedicated period. The reasons are fairly straightforward: reading textbooks and watching lecture videos are something we are all familiar with and have a great deal of experience with. On the other hand, working through question banks can be cognitively and emotionally taxing.
At the end of the day, keep this fact in mind: according to medical education research, the factor most closely related to your score will be the amount of unique Step 1-style questions you have completed before test day.
Ways that AMBOSS can help you succeed during dedicated
AMBOSS is a multi-purpose tool designed to assist students at every stage of their medical education. As a result, the varied and flexible tools AMBOSS offers can be used in a versatile way. Below you will find some of the AMBOSS features and medical content that you should consider when reviewing during your dedicated period:
The AMBOSS Study Planner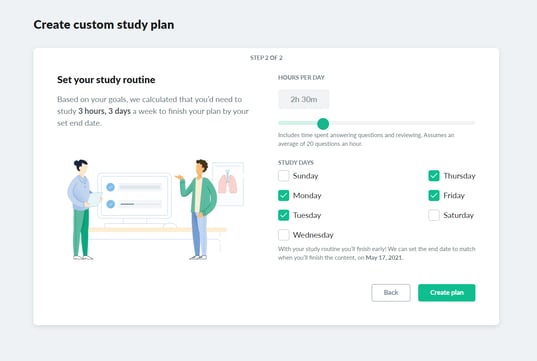 One challenge of the dedicated period is establishing and maintaining the study regimen that will help you succeed on test day. Students often look forward to the dedicated period as one long, unstructured block of time that will last forever. In reality, your dedicated period will pass by very quickly!
That's why it's important to enter the dedicated period with concrete plans and a degree of accountability to ensure you meet them. The AMBOSS Study Planner can help you here by providing you with a way to budget your questions on a day-to-day basis. At the end of each week, you'll be presented with study recommendations that help you fill in content gaps related to the week's question sessions.
If you ever find that the custom study plan you've created is not practically achievable, you are always free to create another that better matches your needs; previously created plans will not conflict with newly created ones.
In-depth review of question sessions
As you approach your dedicated period, it is imperative that you replicate testing conditions during your prep. This includes completing timed blocks with questions from all content areas. During these sessions, it makes the most sense to utilize the Exam Mode interface that replicates the appearance and behavior of the real exam day.
For efficient learning, you should review each and every question session after you complete it (if you are super crunched for time, feel free to skip questions you got right). This review is an opportunity for you to understand exactly why you did or did not answer the question correctly.
Compared to other question banks, several components of AMBOSS facilitate fast and effective session reviews during your dedicated period. First is the relatively short length of AMBOSS explanations. Despite their conciseness, they share all the question-relevant information you need to know for every answer choice.
If you'd like to dive in further, the AMBOSS question bank is well-integrated into the AMBOSS library. By default, each correct answer choice links to a relevant AMBOSS article. If this link is clicked, the article is displayed alongside the question explanation. Any information underlined in green within the article is relevant to the question and often has further details and context than the question explanation alone.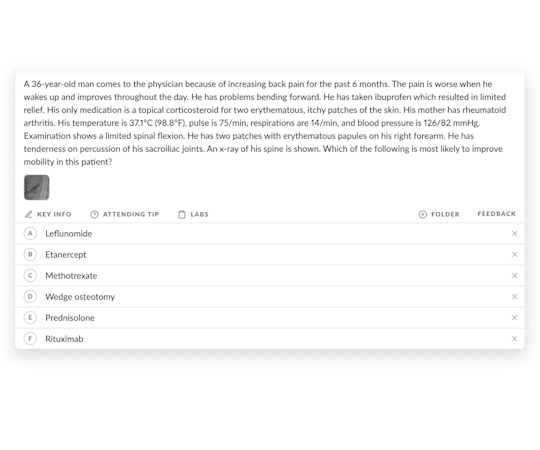 What happens if you would like to investigate another topic altogether? Use the AMBOSS search bar featured at the top of the screen to search for any relevant term. Whether multimedia or article, click on any of the search results to open it up within the side-by-side view.
Performance analysis and recommendations
As you gain more experience completing questions, AMBOSS will carefully analyze your performance and use these insights to support your future studies. AMBOSS' post-session analysis can help you understand your test-taking pace and your performance relative to your peers.
If your performance does not meet your expectations, it may be a good idea to spend some time reading the articles recommended at the bottom of each analysis page. Next to each recommended article, you will find a progress bar that shows you how many of the questions related to that topic you've completed. The progress you've made may be colored red, green, or a mix of both; this reflects the proportion of questions you've gotten correct (green) or incorrect (red).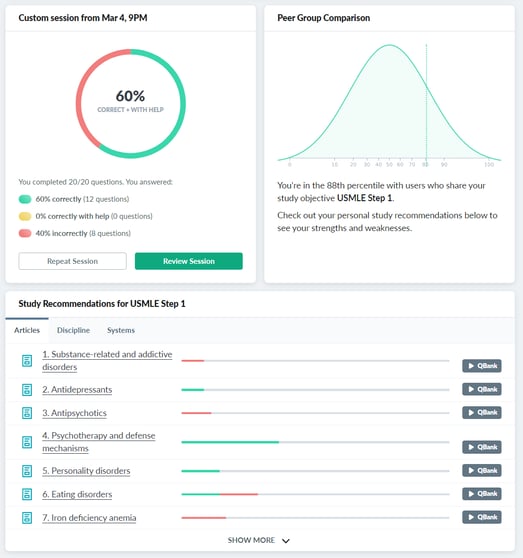 If you find you're not performing well on a large proportion of the AMBOSS questions related to a given topic, this is an indication that you should spend more time reviewing the content contained within the corresponding article. Don't worry if this is the case. This is precisely what this time period is for. Stay calm and stay focused. If you stick to your dedicated study plan, you'll be ready and confident when exam day arrives.