Study for the USMLE® Step 1 With Our Summer Crash Course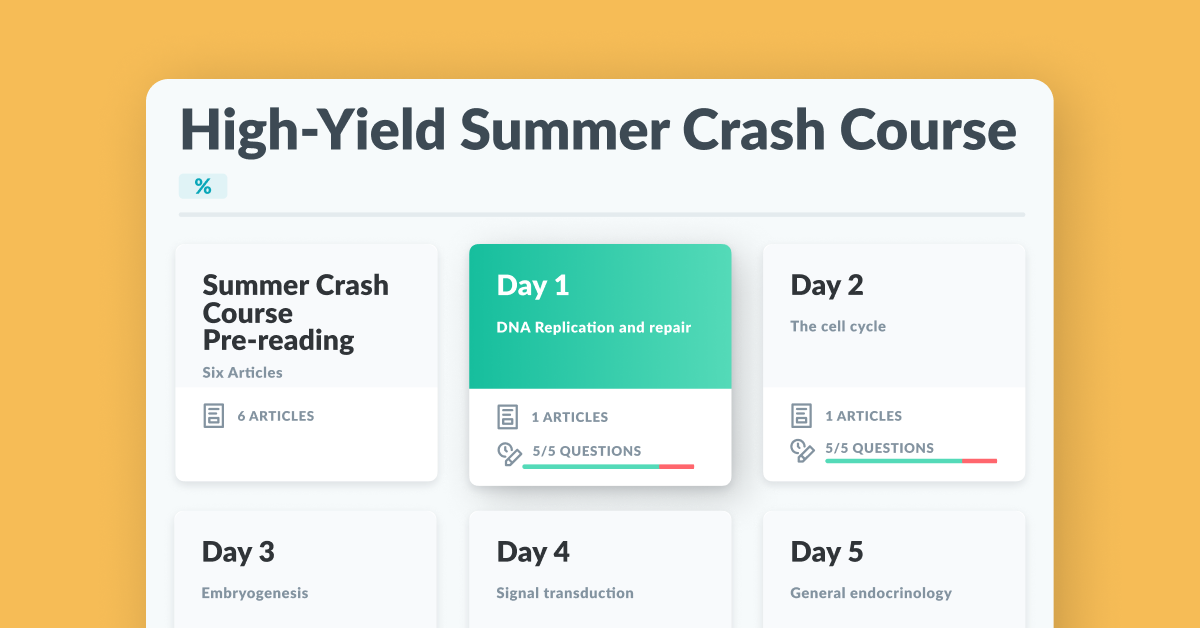 The sign-up period for the High-Yield Summer Crash Course is now ended. You can still participate if you have an AMBOSS account with full access to the library and Qbank. Please keep in mind that only those who signed up for the course will receive the daily email reminders and content wrap-ups. If you did not sign up, you'll need to go through the course, step by step, at your own pace. You can access the course here.
---
The first year of medical school can be quite the experience for students—there's plenty to learn, both inside and outside of the classroom. Most students finish up M1 with buzzing brains full of new information.
The summer between M1 and M2 is widely considered to be the last summer for medical students, and there's much talk around spending it the "right" way: either lean into the fleeting freedom or give in to the guilt and continue hitting the books. But there is a way to balance the pleasure and (just slight) pain. Keep up with your studies and enjoy your summer at the same time with the AMBOSS FREE High-Yield Summer Crash Course.
A few details on how it's structured:
The course kicks off on June 20 and ends on July 15, 2022. It consists of concentrated offerings from our library and Qbank, hand-selected by AMBOSS physicians. The course is made up of 20 sessions, each session comprised of one article and one question session. Each question session contains five questions. By the end of the course, you'll have mastered the top 20 high-yield topics from the M1 year that serve as a foundation for the M2 year and Step 1 prep.
And, if you miss a week due to vacation plans, that's OK—you can just pick up where you left off. It can be easily adapted to your own schedule.
The course is completely free to take, but in order to participate, students must create an AMBOSS account.
What better way to beat the summer haze than by jogging your brain with a little high-yield information every day? You don't even have to miss out on the sunshine!