These Haunted Hospitals Are Truly Creepy!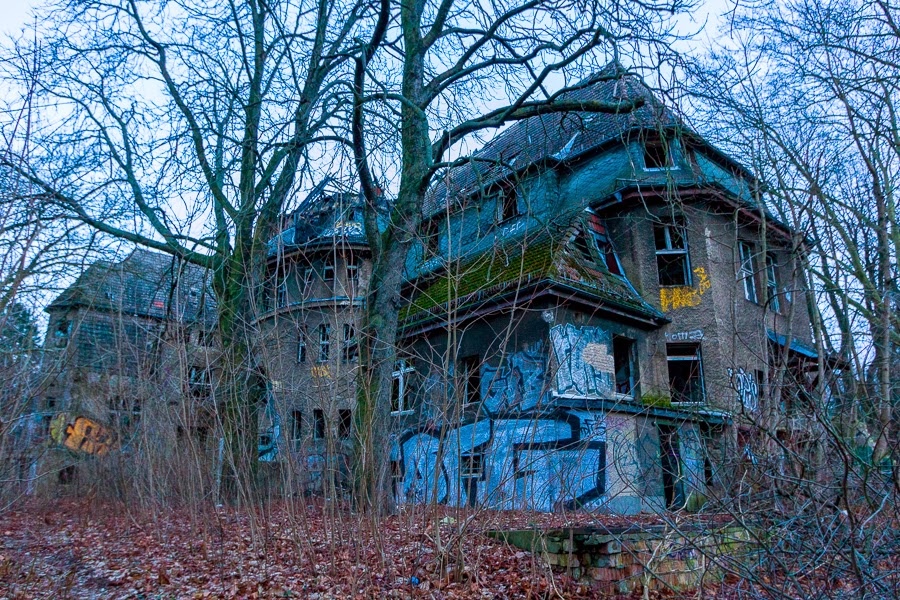 With Halloween creeping up, this edition is dedicated to the haunted hospitals of the world. We've taken the liberty of showcasing some of the biggest, most sterile, labyrinthine structures we could find. From medical to mental hospitals, we'll scare your socks off! Located all over the world, these hospitals are spooktacular. So, if 'creepy' is what you are looking for, you've come to the right place. Here are 10 of the most horrifying hospitals to avoid at all costs, although some charge a cover to visit.
1. Beelitz-Heilstätten Hospital, Berlin
The history behind Beelitz-Heilstätten Hospital is as horrifying as it looks. Standing 30 miles outside of Berlin, this enormous hospital complex was originally built as a tuberculosis sanatorium to treat Nazis during World War II. This is also where a young Adolf Hitler recovered after being wounded in World War I. Visitors can go on guided tours inside some of the buildings within the complex.
2. Sai Ying Pun Psychiatry Hospital, Hong Kong
Serving as the lone mental hospital in all of Hong Kong from 1947 to 1961, many supernatural tales have emerged. Abandoned in the 1970s, ghostly rumors circulate of a woman crying, mysterious footsteps, visions of a devilish man bursting into flames and thunderous sounds emanating from the building. If you and your ghoulfriends care to visit, you might possibly encounter some decapitated spirits wandering the halls at night - visitors have reported such experiences.
3. Ararat Lunatic Asylum, Australia
When opened in 1867, the Ararat Lunatic Asylum was the largest in all of Australia and featured some bizarre and horrifying methods of treatment. The facility housed some of the most dangerous and violent psychotics in the world. In its 130 years of terrifying service, 13,000 patients died on hospital grounds. While the facility closed in 1998, shockingly enough, it reopened three years later as a campus for the Australian College of Wine. Ghost sightings remain frequent, and haunted tours are given throughout the year. Get your creep on and prepare to be terrified.
4. Zombie Hospital, Berlin
A former children's hospital, Kinderkrankenhaus (former name), was cruelly shut down in 1997, after over 85 years of service to Berlin's newest arrivals. Punished repeatedly by weather and vandals, the hospital's been lying idle ever since, Bruised, battered and burnt, visitors from all over the world visit the abandoned complex, hoping to spot the rumored zombies circling the facilities. Word of advice - stay on the path! There are tons of manholes just lying around.
5. Taunton State Hospital, Massachusetts, USA
Erected in 1854, this former psychiatric hospital boasts a terrifying historical account. Jane Toppan, a serial killer who confessed to having murdered at least 31 while working as a nurse, was one of the hospital's most infamous patients. Stories have also emerged that some of the doctors and nurses working at Taunton conducted satanic rituals in the basement. Years later, both patients and doctors reported feeling an overwhelming sense of unease when approaching the basement. Additional accounts have surfaced of a man crawling along the walls and watching patients. If you feel lonely, visit Taunton!
6. Athens Mental Hospital, Ohio, USA
Opening its doors in 1874, the Athens Mental Hospital is famed for its infamous lobotomy procedure and housing violent criminals. Shrouded in mystery, patient information was kept under tight, confidential wraps, impermissible to the outside world. With more than 1,900 people buried on the hospital grounds, their headstones are marked by numbers only. If this isn't creepy enough, in 1978 a young female patient disappeared. Her body was later found in an abandoned ward. You can still see a stain on the floor where her corpse was found, decades later!
7. Kingseat Psychiatric Hospital, New Zealand
Kingseat Psychiatric Hospital opened in 1932 and was operational until it shut down in 1999. From scratch marks on walls, bars on the windows and stains on the floor, more than 100 ghosts sightings have taken place. The site, which incorporates a morgue and maximum-security unit, has long been subject to folklore. According to reports, more nurses died at Kingseat than patients. Staff suicide was common on the grounds. Since its closure, several death cases have re-opened, amid claims of severe neglect and abuse, and three separate paranormal investigations were conducted in 2014.
8. Old Changi Hospital, Singapore
Constructed in 1935, Old Changi Hospital is known as one of the most haunted sites in all of Singapore. Initially serving as a Royal Air Force Hospital, it later functioned as a prison camp and torture facility for the Japanese Secret Police. Many apparitions have been spotted, such as bloody Japanese soldiers and children wandering the halls at night. Visitors come away with frightening stories of strange encounters and tales of floating spirits encircling them, even after they've left!
9. Beechworth Lunatic Asylum, Australia
Opened in 1867 to literally everyone, this institution proved to be the final stop for many for well over a century. From rattling cellars to disembodied screams, visitors have reported some bone chilling tales of paranormal activity! Overall, nearly 9,000 patients died at Beechworth, including a young girl who was mysteriously thrown from a window - her death going unsolved. If you dare, ghost and murder tours are offered daily.
10. Trans-Allegheny Lunatic Asylum, West Virginia, USA
The facility was erected in 1864 and shut down in 1994. During this time, hundreds died under mysterious circumstances. Even more haunting, before the grounds functioned as an asylum, the area was used as a Civil War military post. Supposedly, some of the ghosts that haunt the grounds are from that period. If you don't spook easily, daily tours and overnight stays are available.
To many, hospitals are scary places to begin with. Couple that with being 'haunted' and they become even more eery. This list of the most haunted hospitals in the world are teeming with spirits, and daring you to visit! Wishing you a happy haunting!