AMBOSS Pediatrics Shelf Has Officially Launched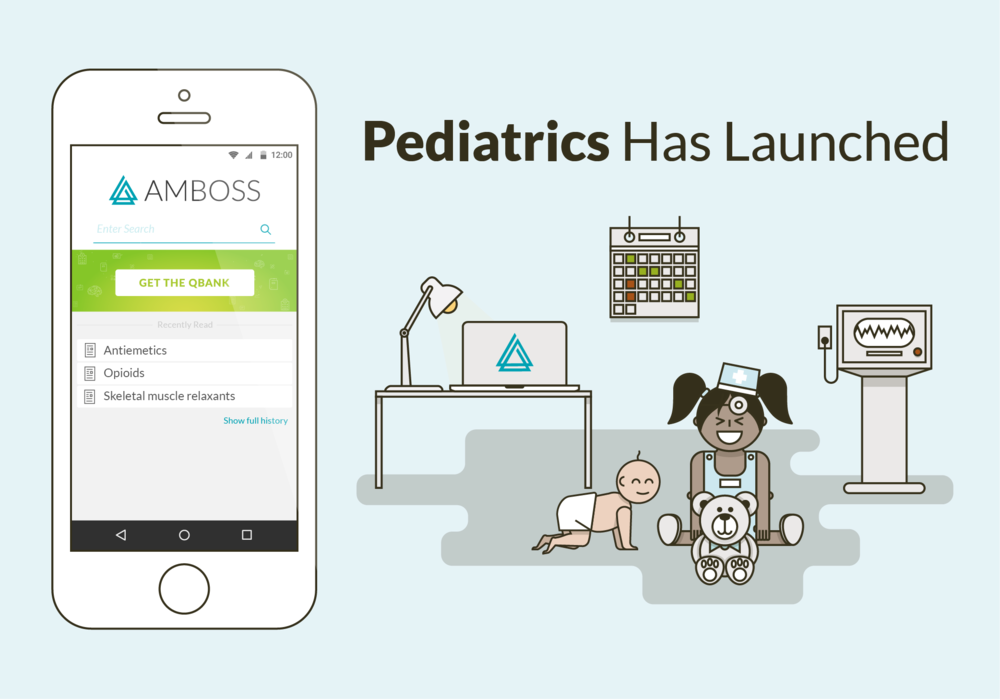 We're not taking baby steps around here! In fact, we've made giant leaps. In addition to the AMBOSS Surgery and Neurology Qbanks, check out this month's Pediatrics Shelf release, which was specifically designed to assist you in preparing for your next exam and clerkship.
Each individual question, answer and explanation is written by physicians with quality references ranging from established medical textbooks to the most up-to-date journal articles and guidelines. Our growing Qbank includes over 1950 questions covering all topics, with full packages available for Surgery, Neurology, Psychiatry, OB/GYN, Medicine, and now, Pediatrics. With new questions released weekly, be sure to check out our growing Medicine and Step exam questions!
Focused on high-yield material, our Pediatrics Shelf envelopes all relevant topics according to the USMLE outline. These topics are covered in further detail within our associated Learning Cards, which are located in our comprehensive and interactive clinical knowledge library. Our Pediatrics Qbank covers the highest-yield concepts, such as pediatric immunodeficiencies, neonatal jaundice, juvenile idiopathic arthritis, and so much more. Marry the Pediatrics Shelf with our many interactive and dynamic visual resources, and studying for NBME exams will be nothing more than child's play!
This synchronization makes it easier to pinpoint knowledge gaps and activate all the features AMBOSS has to offer, like the high-yield function, which highlights the most crucial components for each specific question.
Or maybe you want to dive deeper, and explore images and/or case-based results from X-rays or EKG's. We continuously update our clinical content to include a wide range of topics cross-linked with every question.
Add to this, our AMBOSS knowledge network to explore how interconnectivity can be managed and examined from a learning point-of-view, similar to the way it works within the human brain. The complex, yet structured AMBOSS knowledge network makes it easier to understand relationships, connect important concepts and gain a deeper understanding into related pathologies and disciplines. Stay tuned for more interactivity updates from AMBOSS!