Get Ready for Step 1 With Our Qbank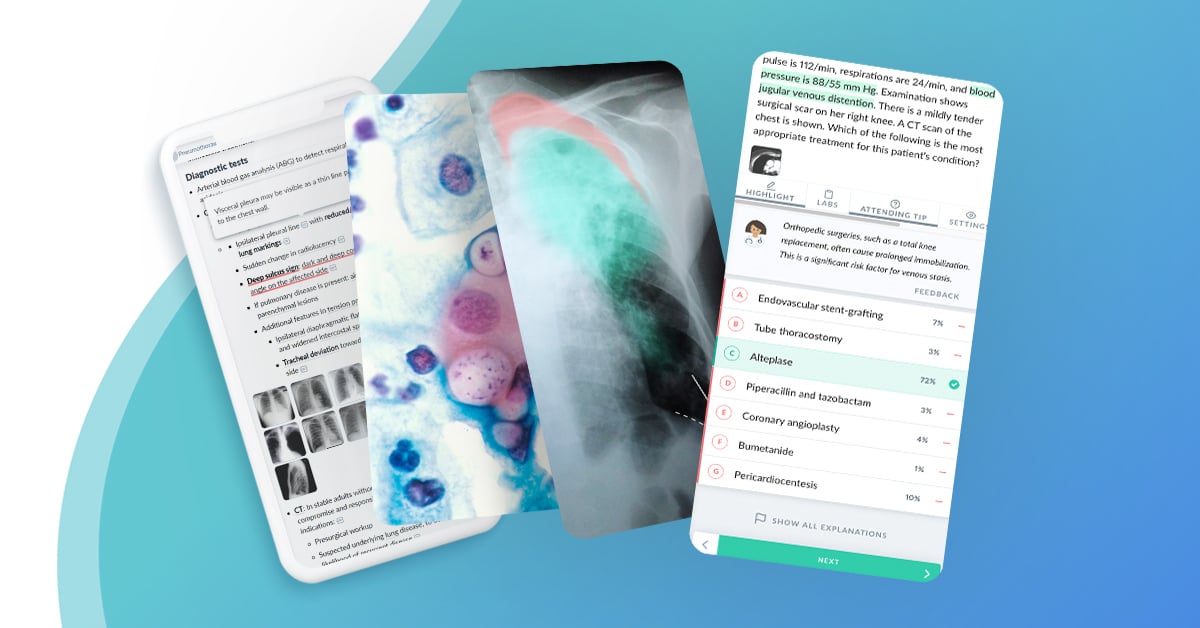 Update: On January 26, 2022, the USMLE® Step 1 exam became pass/fail. This means you are no longer dependent on the previous three-digit score. Read the official USMLE announcement here.
---
There is no doubt that the USMLE®️ Step 1 exam looms large for medical students. The first in a succession of exams you must take to obtain your medical license, it's difficulty and importance cannot be overstated.
---
Dive into the AMBOSS Qbank and score high on Step 1.
---
Encompassing more than two years of basic sciences material and diagnostic know-how, how you perform on the exam could be a deciding factor in your residency program matching later on.
Sound scary? It doesn't have to be. The right resource will help you navigate the topics you need to know as well as equip you with the tools you need to succeed.
AMBOSS is that resource. We offer you a powerful combination of:
A comprehensive Qbank
A cross-linked medical Library
High-yield information
An Exam Mode feature
Personalized Analysis
Personalized Study Recommendations
AMBOSS meets your every study need as you advance through medical school. Here's what you'll find:
Side-by-Side Studying
With AMBOSS, you get more than just a Qbank. As you go through sessions, you'll be able to delve deep into any topic by opening up the medical Library side-by-side with each question.
A Comprehensive Qbank
Browse through challenging USMLE Step 1-style questions that feature diagnostic materials like lab samples, images, and more. Plus, you can train under exam-day conditions by simulating the USMLE interface with our Exam Mode feature.
The Basic Sciences in the Library
Get the full scope of Step 1 with the Basic Sciences area of the Library. You'll find traditionally defined disciplines like anatomy behavioral sciences and biochemistry, as well as interdisciplinary areas like genetics and molecular and cell biology.
Highlighting and High-Yield Mode
Get the most essential information of any Learning Card at a glance with the Highlighting tool. To get through Learning Cards as quickly as possible, condense them by turning on High-Yield mode.
Personal Assessment Tools
Enable the Learning Radar to highlight the information you missed during your Qbank sessions in red in the Learning Cards. For a complete overview of your progress and personalized recommendations, refer to your Personal Analysis.
Take and Save Personal Notes
Bring your own interpretations and outside knowledge to the table by adding personal notes and comments to the Learning Cards. The more you add, the more you can centralize your study in a single resource.
AMBOSS Add-On for Anki
This popular add-on for Anki allows you to connect high-yield Learning Cards with all your favorite decks. You can hover over terms in the flashcards to see pop-up definitions and then jump straight to AMBOSS Learning Cards to get a comprehensive overview of the topic.
AMBOSS offers you even more opportunities to study and succeed on the USMLE Step 1 exam with an arsenal of interactive multimedia table quizzes, sample diagnostic images, videos, SmartZoom cell samples, and more. And it's all on a digital platform that you can refer to anytime, anywhere—even offline.
AMBOSS is the only resource that accompanies you throughout your entire medical career—including your residency years. After you've taken Step 1, AMBOSS will be there with high-yield materials for the NBME® Shelf exams, the Step 2 CK and CS exam, and Step 3 (coming soon!). It's also your trusty clinical companion when your time comes and you're finally on the wards.
---