How to Create a Study Plan for Your Next Med School Exam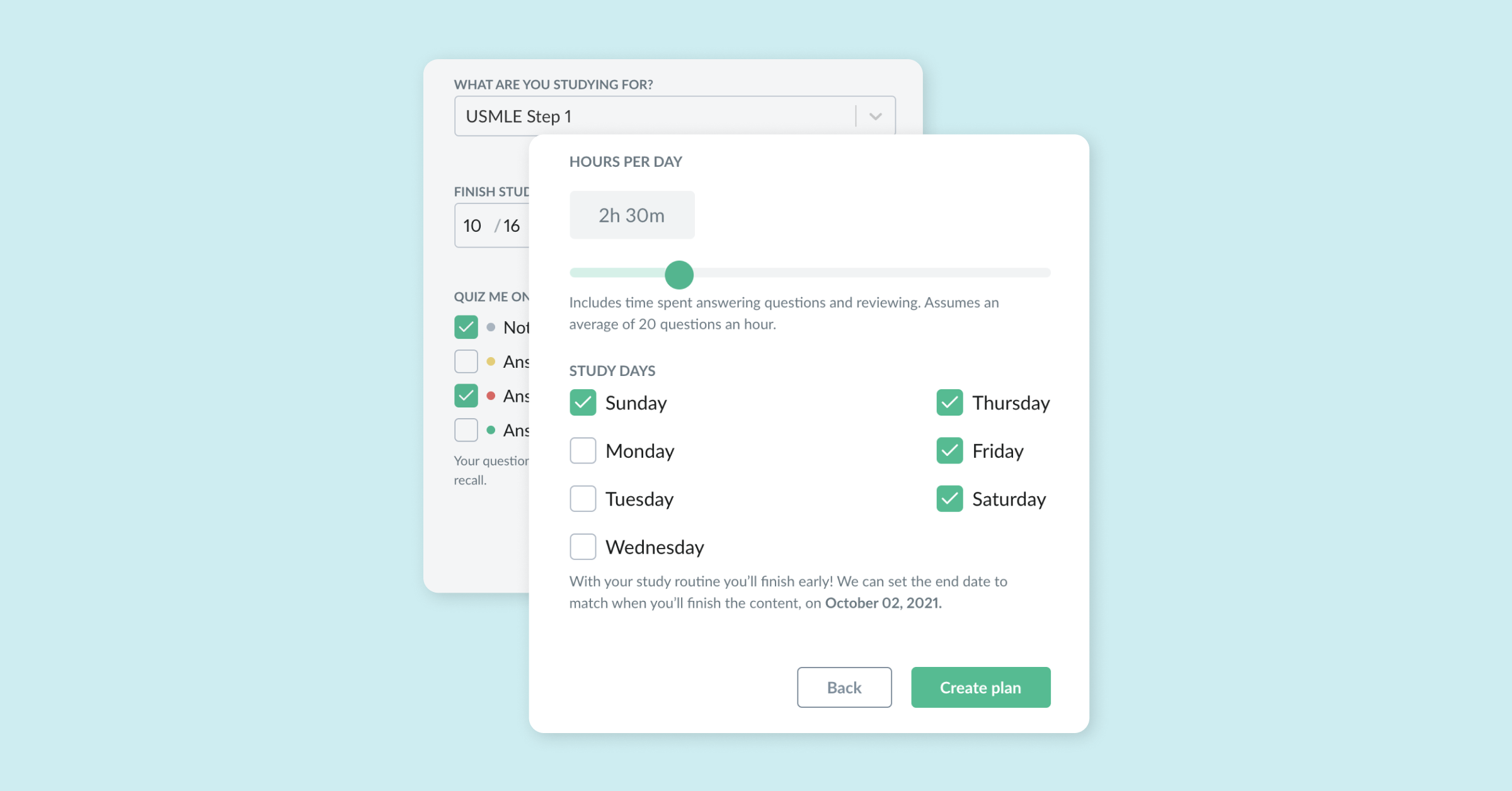 Everything they said about medical school is true. It's fulfilling, rewarding, an amazing opportunity, and there's so much to learn. It can be hard to comprehend the magnitude of the work required until you finally confront it — all it takes is one night of cramming to understand that a study plan is vital to tackling your studies in a structured and manageable way.
With that said, creating the right plan for you can feel like its own difficult task: Which topic do you start with? How much time should you dedicate to each? Does it matter how far out you are from exam day?
Don't sweat the guesswork and let us take care of it for you. With the AMBOSS Study Planner, you tell us your needs, and we provide you with a customized study schedule made to meet them.
---
With the AMBOSS Study Planner, you can create a study plan in seconds that fits your schedule, that lets you study your way
---
Why you need an AMBOSS customized study plan
The AMBOSS Study Planner generates study plans that help you organize your time. Study plans tell you exactly which topics to cover, on what days, and for how long. They also provide structure, ensuring you use your time efficiently and put in effort only on what's most important.

To create our study planner, we gathered insights from the people who use them the most: students like you. Hundreds of students, from morning birds to night owls, from crammers to planners, at every prep stage, told us how they study, their biggest obstacles, and the habits they've found most helpful.

We learned a lot about personal methods and organization techniques — sticky notes and spreadsheets are extremely popular, turns out — and the need to track and confirm progress. Most importantly, we learned that everyone has their own unique goal and that approaches change depending on the exam (studying for USMLE® Step 1 is not the same as studying for an NBME® Shelf exam).

Even so, common themes and patterns appeared, and, as such, we realized that to be truly beneficial, a study plan must do the following five things:
Break things down
When there's a mountain of work in front of you, it can be easy to slip into a punishing Sisyphean review scheme. But you don't have to tackle everything all at once. A study plan helps you break things down into manageable chunks and commit to covering only a few topics for a set number of hours each day. That way, you turn big challenges into easy (or, um, easier) wins and stay motivated throughout.
Cover everything you need to know
It's easy to get lost in the details of any topic, especially when you feel pressured to know everything. Being thorough is important, but mastering what's high-yield and maintaining pace is even more so. The last thing you need is to get hyper-focused on the minutiae now only to realize you don't have time for a second pass on trickier concepts later. A study plan helps you stick to a straightforward path of what's top priority.
Keep you on track
Study plans are kind of like your medical school GPS. They're designed to keep you on track, to show you where it is you need to go. Let's say your plan covers three topics in three hours, every day for 30 days. By sticking to it, you'll have covered every single one of those 90 topics by exam day — impressive, right? Trust the process — and even if you veer off-road at some point (miss a day, say), a study plan makes it easy to go back and pick up from where you last were.
Improve the quality of your studying
There are only so many hours in a day, so when you do get down to studying, you have to make the most out of every moment. A study plan helps you keep your focus. Study what's assigned for that day and no more than that, and take the time to really dig into each topic.
Give yourself time to breathe
A good study plan delineates your work hours from your free time. It's important to take breaks and practice self-care to avoid burnout — it's as much about maintaining sustainable habits as it is excelling on exam day. Take time for yourself and do the things you love: go for a jog, treat yourself to a delicious dinner, or watch your favorite show. You'll come out feeling refreshed, and when you do return to your studies, have a clear mind.
How to create your custom study plan
With the AMBOSS Study Planner, creating a study plan for your upcoming medical school exam is quick and easy.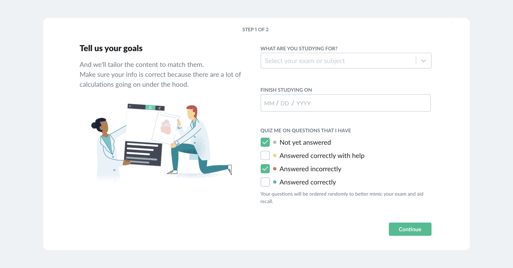 Select your study goal or exam you're studying for.
Add the anticipated end date for your plan. For example, it could be the day before your exam.
Set the kinds of Qbank questions you want to practice with. Maybe you want to go over the ones you got incorrect before again, or maybe would prefer ones that are new-to-you.




Set how long your study sessions should last. Remember to be realistic about how long you can keep your focus.
Choose which days of the week you want to study on. Make sure you factor in rest days and any recurring personal engagements you want to keep up with, like your favorite gym class
Create your plan!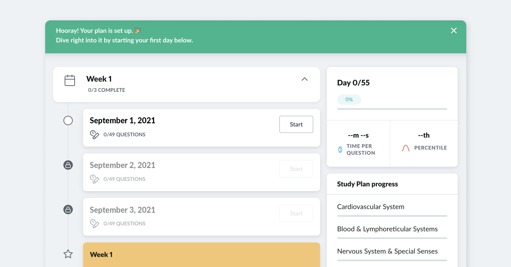 Voilà! In just a few minutes your two-week, three-month, or six-month study plan — it's your choice— is set up and ready to go.
Things are pretty straightforward from there.
On each day of your plan, you'll start with a Qbank session — this is your chance to put your knowledge to the test and exercise those recall muscles
.
At the end of your session, we'll provide article recommendations specific to your needs that can help improve any weak areas
.
You'll also have the opportunity to review your completed session and see what you got wrong or right, as well as why you got it wrong or right, as well as answer explanations
.
---
Create a study plan that fits your schedule, that lets you study your way,
with the AMBOSS Study Planner.