How to Use the New & Improved AMBOSS Add-on for Anki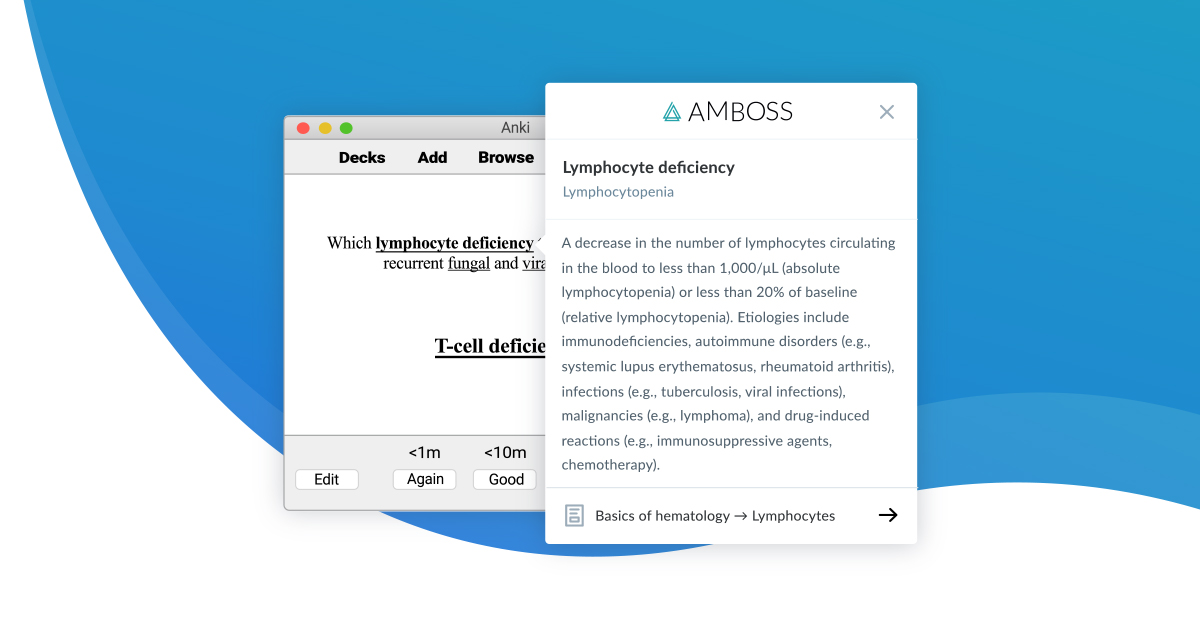 Why Use the AMBOSS Add-on for Anki?
A common difficulty in the life of a medical student is deciding between the wide variety of study tools available. These days, students are frequently implementing flashcards and other memorization tools into their study routines.
But flashcard users know that it can be exhausting to read a term in a flashcard, look it up in a textbook or lecture tool, and then try to find a Qbank question on that particular topic. This is where the AMBOSS add-on for Anki comes in and why it has been so popular since it was released in 2019.
The AMBOSS add-on for Anki brings the best learning tools together for one unifying experience. Based on student feedback, we've added new features and optimized old ones, all to give you a thorough and seamless learning experience.
---
LEARN MORE ABOUT THE AMBOSS ADD-ON FOR ANKI AND DOWNLOAD IT HERE
---
Key Features of the Add-on
When the AMBOSS add-on for Anki was released, students loved it for its quick definitions and easy access to the AMBOSS Library. With the new update, we've gone further and brought you even more features designed to help students have an efficient learning experience. Let's take a look at the features that will help you learn more and score high on your next exam: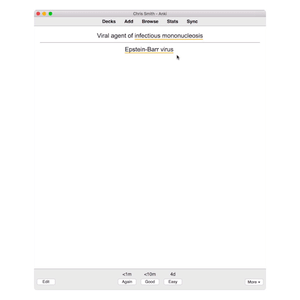 Hover over terms in your Anki flashcards to see pop-up explanations from the AMBOSS Library. Click on them to dive into the AMBOSS Articles and Qbank straight from your favorite Anki decks. Using this feature, flashcard users can streamline their studies and quickly familiarize themselves with important concepts.


Images in pop-ups: Some terms contain important concepts that need to be conveyed through more than text. When this is the case, the pop-ups will include a preview of an associated image. Click on the pop-up to go to the Library where you will see the image expanded and get more information on the topic.
Keyboard shortcuts: Here's another new feature that students are getting excited about! Keyboard shortcuts allow you to open, close, and go between pop-up explanations. You can set your own shortcuts if you prefer, allowing you to flashcard with the mechanics that are right for you.


Phrase matching: Our updated phrase matching means that your pop-ups will more precisely match the definitions and images of the term you're looking at.
Highlight colors: This new feature lets you choose the color of your AMBOSS highlighting tool, allowing you to better match your preferred flashcard formatting.
Pop-up settings: Quickly adjust your settings to disable the pop-up explanations on either the answer side of the flashcard or both the question and answer sides. Toggling pop-ups to "off" allows you to simplify your study experience and hold yourself accountable when you're really trying to put your knowledge to the test.
How to Install the AMBOSS Add-on for Anki
For users with the latest version of Anki, version 2.1.17, this is how you install the add-on:
Click DOWNLOAD. The add-on should immediately download to your desktop! Please note this does not work on mobile.
Depending on your browser, the file will open automatically or you'll have to open it manually.
Click 'Yes' on the permission prompt.
You should receive a notification about restarting Anki to complete the installation.
Close Anki and open it again.
Enter your AMBOSS login details in the login window.
Start studying!
---
LEARN MORE ABOUT THE AMBOSS ADD-ON FOR ANKI AND DOWNLOAD IT HERE
---
What Medical Students Are Saying About the Add-on
With so many resources to choose from, it's understandable that students want to know a tool is tried and tested by their peers before committing to it. It's important to use the right tool that will ensure the most valuable use of your time. With this in mind, let's take a look at the stand-out features and benefits that students who use the AMBOSS add-on for Anki have been talking about:
We're hearing more and more that the integration with the AMBOSS Library is a major benefit for students.
"I love the Anki [article] integration that can be used with any Anki deck. So often I have had to jump to Google or another resource such as First Aid while reviewing an unfamiliar card, and with the Anki upgrade, the [articles] are literally at my fingertips and just a click away." M1 Student, Columbia University Vagelos College of Physicians and Surgeons, class of 2023.
Andrew from the University of Arizona College of Medicine, class of 2022, agrees: "The Anki integration idea makes so much sense and I am just so relieved that you have pulled it off before I take Step 1."
Students have also been impressed with the recent updates.
Nolan from the University of California Riverside, School of Medicine, class of 2023 said: "The more recent creation of the AMBOSS Anki add-on was absolutely groundbreaking and myself and fellow classmates were very impressed with how helpful and seamless the program was."
The Anki x AMBOSS webinar with Anking and Glutanimate
Here's yet another take on just how powerful the AMBOSS add-on for Anki really is. In this in-depth webinar, Anki favorites Anking and Aristotelis from Glutanimate, discuss using the add-on to study for USMLE® Step 1. See them in conversation with AMBOSS' own Dr. Sean Robert Huff and find out more about how to use the AMBOSS add-on for Anki to study effectively.