How to Get a Good Letter of Recommendation for Residency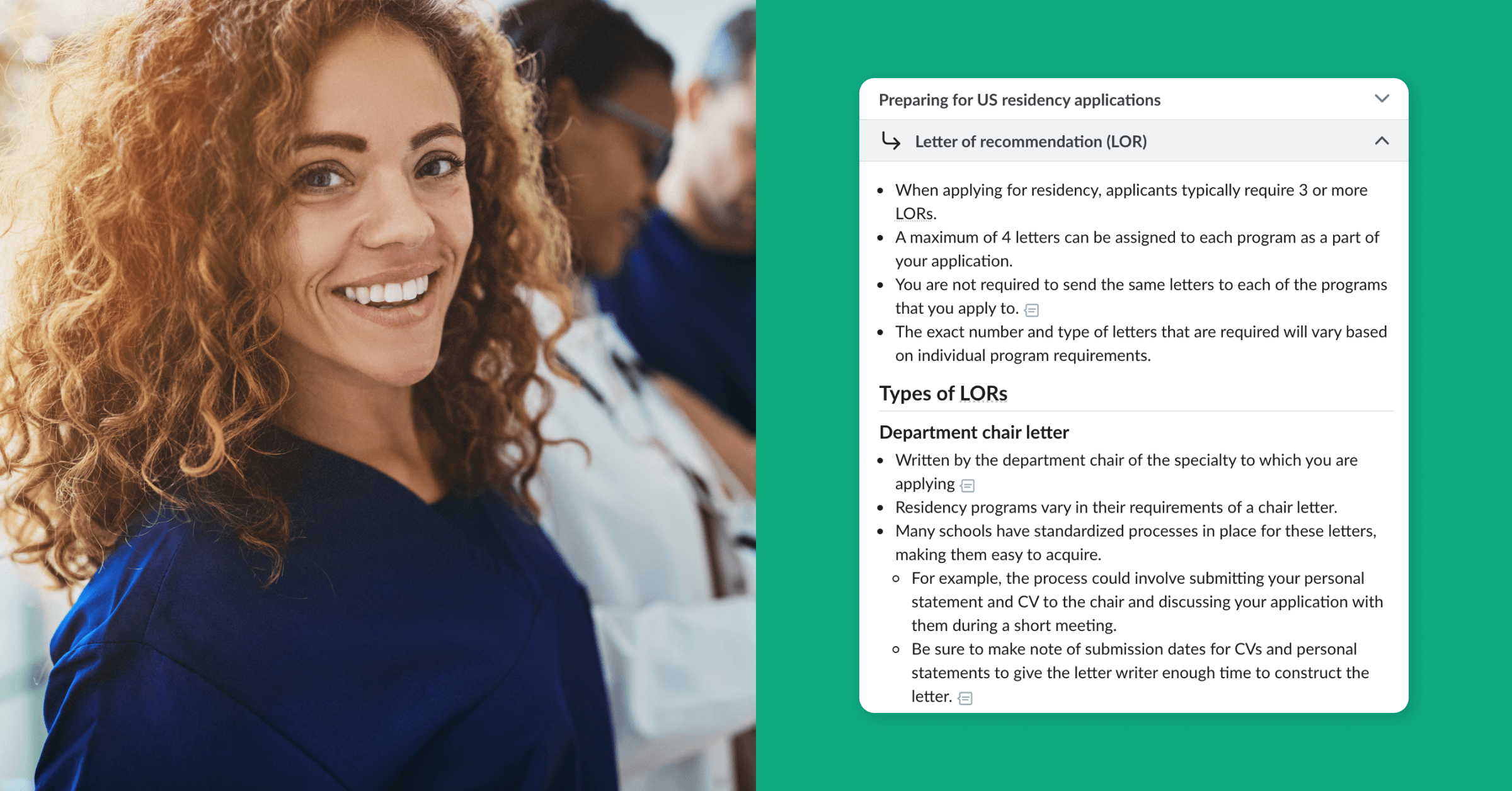 Getting a good letter of recommendation is a crucial part of the ERAS® residency application process. It's an opportunity to showcase your talents and let your chosen residency program know if you are the right fit for their team.
Naturally, there are many questions surrounding letters of recommendation. From what makes a great letter to how to request it, let's take a look at a few of the most common questions aspiring residents have about this process.
What makes a great letter of recommendation?
A great letter of recommendation for residency applications typically includes exactly how the letter writer knows the student. The letter writer should provide context around how and when you worked together, in what specialty, and outline your aptitude and passion for that specialty.
In the University of Central Florida College of Medicine's tips for writing letters of recommendation, they state that a strong letter of recommendation should give specific examples of the student's performance. This should include the aspects that made the students stand out in comparison to their peers. They state that "it also provides an estimate of how this student ranks among all students with whom the letter writer has interacted over the years."
A great letter of recommendation should be longer than one page. Ideally, it will include information about your extracurricular activities and the unique characteristics that will make you a great candidate for the residency program.
---
Check out the AMBOSS Guide to Residency Applications for more information on LoRs.
---
How many letters of recommendation do I need?
You can submit a maximum of four letters of recommendation but most programs request three. Submitting two letters is usually the minimum. If a residency program requests a specific number of letters, it is advised to stick to that number and not to submit more than requested.
How do I choose my letter writers?
The two most important factors when choosing your letter writers are as follows:
The specialty they work in
The amount of time you have spent working together
It's important that your letter writers know you well. The academic consultants, Shemmassian, advise that you should have spent time working closely together in the clinical setting. As students don't typically spend much time working directly with the department chair, letters from the chair are not seen as especially valuable. Conversely, letters from the attending of the specialty you are applying to carry a lot of weight.
If you did not have a good experience working with an attending, do not ask them to write your letter. While you're asking for a letter of recommendation, be upfront and ask them if they feel like they can write you a positive recommendation. If they seem hesitant or can't commit to writing a great letter for you, ask someone else.
You should not ask family members or friends to be your reference. However, a research mentor who also happens to have clinical credentials can potentially be approached about writing a letter provided that you've also shared some clinical experiences with them.
How do I request a letter of recommendation?
When asking for a letter of recommendation, it's a good idea to schedule a short meeting with the writer so you can ask them in person. During the meeting, be sure to tell them how much you have enjoyed their specialty and why you want to apply to your chosen residency program.
If you know what residency programs you'll be applying to, you can inform the attending at the beginning of your clinical rotation that you would value a letter from them when the time comes. This way, they will know to pay close attention when evaluating your performance. This will create the opportunity for your prospective letter writer to set expectations for you, and then you can spend your rotation exceeding them together.
Give your letter writers plenty of notice. If you perform well during a clerkship, let the attending know that you would like them to write your letter. Then, when the time comes, you can be confident requesting it. You may need to follow up with them one-two months before the ERAS deadline.
You should provide the letter writer with your updated CV and personal statement. According to the AAFP, you should also "help the attending by providing the names of the residents and fellows with whom you worked so he or she can consult them for input if needed."
How are the letters of recommendation submitted?
Letters of recommendation must be submitted by the writer through the Letter of Recommendation Portal. The writer must register through ERAS to do so. Alternatively, they can submit your letter through your school.
From the student's side, you will manage your letters through the MyERAS portal. This is where you will select your letter writers. MyERAS will provide you with a Letter Request Form that you can give to your chosen writer.
Should I waive the right to view my letters?
You should waive the right to view your letters of recommendation. Not waving your right is often seen as a red flag to residency programs. Because waiving your right means you won't get to read your letters, it's extra important that you are confident in choosing your letter writers.
Should I follow up with the letter writer?
Once you match into your specialty, send your letter writers a thank you note. Let them know where you matched and how their letter, along with their guidance during your clerkship, helped you get there. This will show your appreciation for them taking time out of their busy schedules. It will also help establish a positive relationship should your paths cross again.
---
Check out the AMBOSS Transition to Residency Guide for everything you need to know about making the switch from student to physician.