ChalkTalk: Medical Topics Explained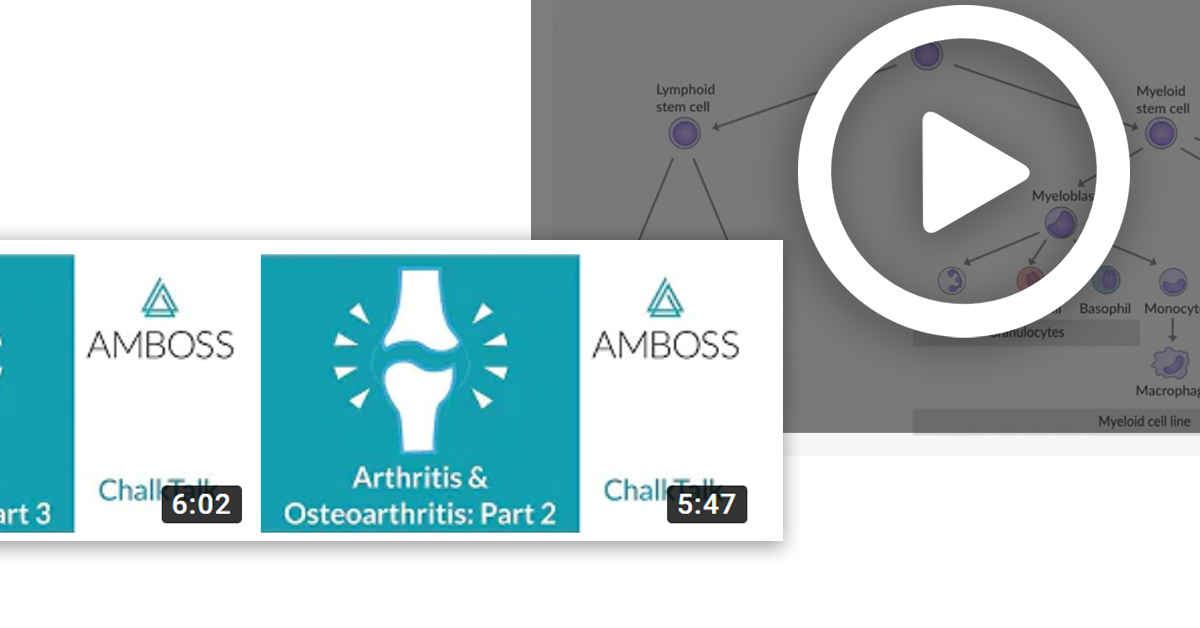 Some topics just get you every time. There are diseases and conditions that are so thick with vocabulary, formulas and differentials they can seem almost impossible to get through. Even when you're on top of your med school game, you're bound to run into moments when you'll want to reach for anything that will help clarify what exactly it is those textbooks and professors are talking about.
To help you untangle all those Aesculapian knots is AMBOSS' ChalkTalk series. ChalkTalks are mini-lectures that explain diseases, conditions and diverse medical topics using clear language, illustrations and graphs. They reveal connections between different topics and help you create a clear framework of medical knowledge you can refer to time and time again. You'll find them handy when you've hit a wall in your studying or just need a quick refresher on something you've covered in the past.
How ChalkTalks Are Set Up
ChalkTalks are purposely set up to break down complicated topics that either aren't commonly covered in textbooks or are based on such recent findings they haven't even made it into common resources yet.
For example, take a look at this ChalkTalk episode on Blood collection tubes - Common Types:

What it's about: The six commonly used blood collection tubes: serum tube, coagulation tube, erythrocyte sedimentation rate tube, heparin tube, EDTA tube and sodium fluoride tube.
Or this one on Eicosanoids: Formation, Function, and Subclasses:

What it's about: Eicosanoids, a group of hormones belonging to the local hormones, and how they differ from classical hormones. For example, how they aren't synthesized in endocrine glands and transported to the target site but are produced directly within the tissue.
Try More Versatile Learning
In addition to being easily digestible, ChalkTalks are versatile and can be quickly adapted into your study plan. They offer both a lean-back format and an interactive experience. How you choose to use them is up to you.
For example, let's say you're in the middle of your Surgery rotation and just came home after a long day on the wards. You're exhausted, but know that you've got to get in at least an hour or two of studying before bed—you really want to honor this particular clerkship. You're probably thinking that tonight isn't the night to scour entire Articles in-depth, but you can certainly click play on a ChalkTalk episode and just sit back.
However, if you are up for a more thorough review, you can always take advantage of their more interactive features. Click and skip to the specific areas you want to focus on most, and when you're done you can take a corresponding quiz. It'll satisfy your kinesthetic needs and can help you test your knowledge on common diagnoses.
Where Can I Find ChalkTalks?
ChalkTalks can be found both in- and outside of the platform.
For a more interactive ChalkTalk experience, access them directly from their own dedicated section in the Knowledge Library, within the AMBOSS platform. They can also be found throughout a variety of Articles. Keep in mind, however, that ChalkTalks are not currently available in the Knowledge and Qbank apps.
ChalkTalk episodes can also be found on our YouTube channel where they can be accessed anytime for lean-back viewing. Plus, you'll be able to check out all of AMBOSS' other videos covering special exam maneuvers, how-tos and much more. Subscribe to the channel here and stay up-to-date on all our latest videos.