Succeed on the Step 2 CK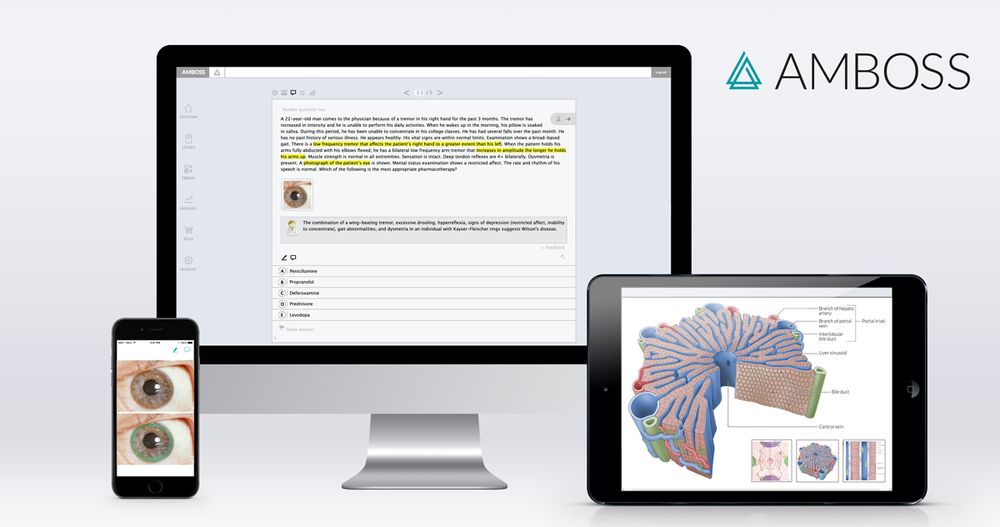 The Step 2 Clinical Knowledge (CK) exam tests whether you can apply medical knowledge, skills and understanding of clinical sciences. While the Step 2 CK is sometimes regarded as a less important exam than the Step 1, it is imperative to score well. While you need a strong Step I score for your Residency Match, having a solid Step 2 score will separate you from other residency applicants. Here are some important things to consider when preparing for your Step 2 CK Exam.
Step 2 CK Dimensions
The Step 2 CK consists of broad-based multiple choice questions that represent the clinical application of medical knowledge. Step 2 CK material is organized along two dimensions, including:
Physician tasks (preventative medicine and health maintenance, understanding mechanisms of disease, establishing a diagnosis and patient management)
Organ systems (normal and abnormal processes, including subcategories of specific diseases)
Test Structure
You can expect to see a maximum of 318 multiple choice questions on the Step 2 CK exam. Divided into eight 60-minute blocks, the exam is administered in one 9-hour testing session. Before starting each block, the number of items will be displayed. Most blocks consist of 40 questions, while some may have a few less. You will receive 60 minutes to complete all questions within each block. Once you begin, the defined time period cannot be adapted nor paused, even for bathroom breaks or faulty equipment, such as headphones. During this period, you can answer the questions in any order you'd like, review your responses and change your answers. Upon exiting the block or when time expires, you will no longer be able to make changes or review your answers.
Practicing under exam-like conditions is crucial to scoring high while staying calm under pressure. Test your knowledge in a similar USMLE exam environment by creating a 'Custom Session' and activating 'Exam Simulation' within the extensive AMBOSS Step 2 Qbank. Additionally, our pre-programmed question blocks of up to 40 items allow you to study under exam-like conditions. Each block is system specific, simulating the real thing.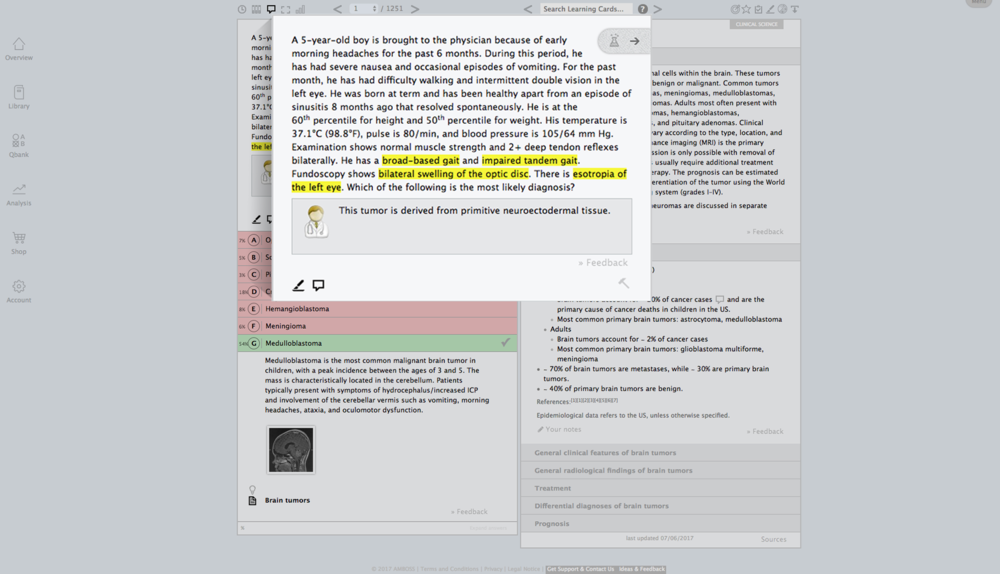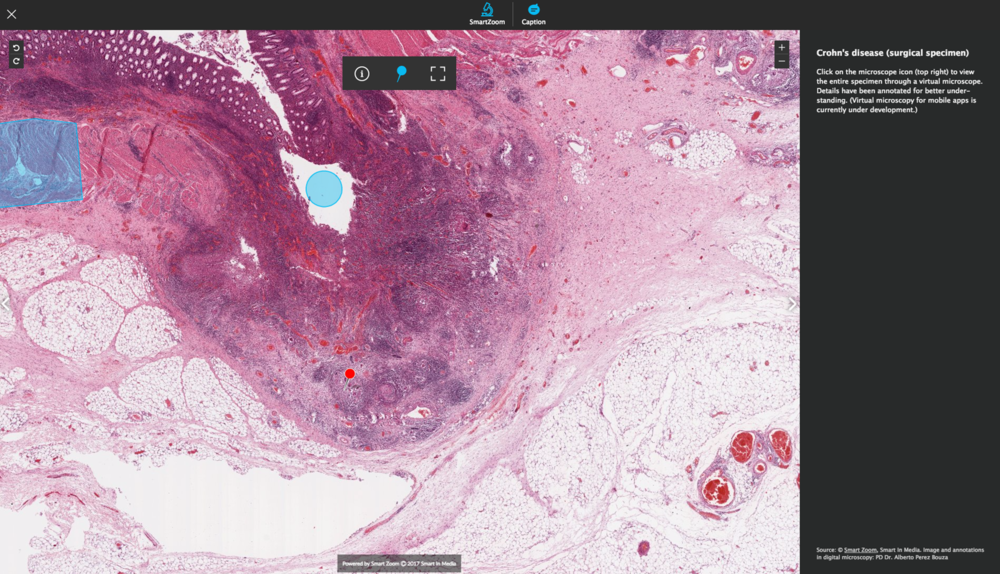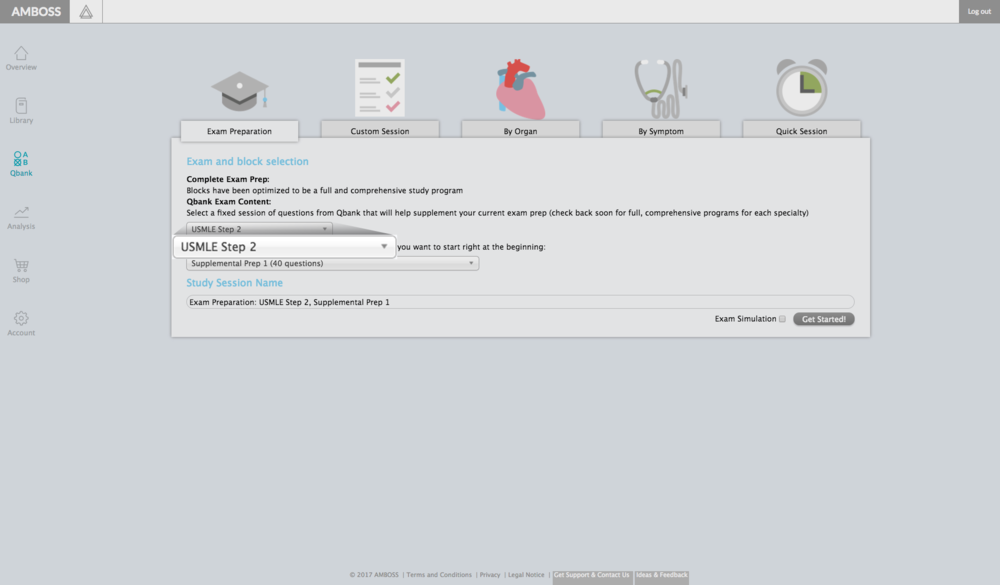 Want to check if you are ready? Well, OK. You can do that! After completing one of our many Step 2 exam blocks, track your progress by clicking on the personalized 'Study Analytics' tool, which pinpoints knowledge gaps and suggests target areas to determine what you need to learn, not what you already know. Or, maybe you're struggling with a particular topic? Pair the AMBOSS Learning Cards with the interactive Qbank for instant review and high-impact learning.
Step 2 CK Exam Content
Physician Tasks/Competencies:
Medical Knowledge/Scientific Concepts (10% - 15%)
Patient Care: Diagnosis (40% - 50%)
• History/Physical Examination
• Laboratory/Diagnostic Studies
• Diagnosis
• Prognosis/Outcome
Patient Care: Management (30% - 35%)
• Health Maintenance/Disease Prevention
• Pharmacotherapy
• Clinical Interventions
• Mixed Management
• Surveillance for Disease Recurrence
Professionalism (3% - 7%)
• Systems-based Practice/Patient Safety
• Practice-based Learning
**Percentages are subject to change at any time. See the USMLE website for the most up-to-date information.**
Systems and Processes:
General Principles of Foundational Science (1% - 3%)
85% - 95% of the following:
• Immune System
• Blood & Lymphoreticular Systems
• Behavioral Health
• Nervous System & Special Senses
• Skin & Subcutaneous Tissue
• Musculoskeletal System
• Cardiovascular System
• Respiratory System
• Gastrointestinal System
• Renal & Urinary Systems
• Pregnancy, Childbirth, & the Puerperium
• Female Reproductive System & Breast
• Male Reproductive System
• Endocrine System
• Multisystem Processes & Disorders
Biostatistics & Epidemiology/Population Health Interpretation of the Medical Literature (1% - 5%)
The Step 2 CK frequently requires the interpretation of:
• Chief complaint(s)
• History
• Examination(s)
• Lab Values
• Diagnostic Procedures
• Imaging studies
• Photographs of gross and microscopic pathologic specimens
• Results of other diagnostic studies
**Sample Step 2 CK test materials and further information on Step 2 CK test content are available at the USMLE website.**
Eligibility Criteria
To be eligible for Step 2 CK, one of the following categories must apply to you at the time of your application and on the day of the exam:
A medical student officially enrolled in, or a graduate of, a U.S. or Canadian medical school
A medical student officially enrolled in, or a graduate of, a U.S. medical school leading to the DO degree that is accredited by the American Osteopathic Association (AOA)
A medical student officially enrolled in, or a graduate of, a medical school outside of the U.S. and Canada and eligible for the examination by the ECFMG
A medical student in a program leading to the MD degree which is accredited by the Liaison Committee on Medical Education (LCME)
When should I take Step 2?
U.S. medical schools require a passing score on the USMLE Step 2 exam before graduation. It is recommended that medical students complete the exam after finishing all basic clinical clerkships. Since the exam is computerized, medical students can elect to complete the exam at any time during their fourth year. Taking the exam early during your fourth year may reflect better recall of your retained clerkship knowledge.
Why is Step 2 important?
The material covered on the Step 2 exam is much more clinically relevant and patient-focused in comparison to Step 1. Therefore, the Step 2 exam is more applicable to medical students in regards to their daily practice as physicians. Additionally, the Step 2 exam is an important factor in the residency selection process. Given the importance of Step 2 scores, it is highly recommended that fourth year medical students take the exam as early as possible to allow the results to be made available to residency program directors.
While the average Step 1 scores increase every year, there has additionally been an increase in the minimum passing score on the Step 2 CK Exam (from 203 to 209). Therefore, examinees should aim for a Step 2 CK score that is higher than their Step 1 score. Two key aspects that residency directors look for in board exam performance are consistency and improvement. If examinees score well on the Step 1 and perform poorly on the Step 2, they might not stand out. However, with proper time management, consistent study habits, and comprehensive preparation material, you can ace your Step 2 CK Exam. Access high-yield content in the AMBOSS clinical knowledge library, which is continuously updated with a wide range of topics crosslinked with every Step 1 and 2 practice question. You can find our full Step 2 package, covering all high-yield topics that you will encounter come exam time.