AMBOSS Step 2 CK Self-Assessment 2021 Results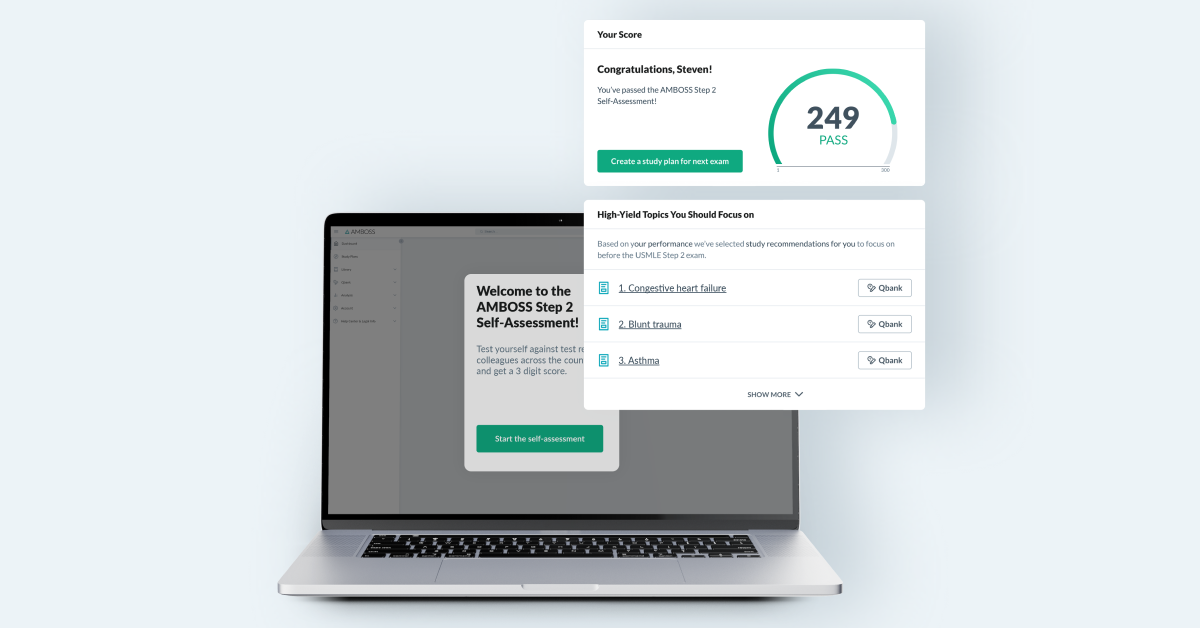 That's it! The first annual AMBOSS Step 2 CK Self-Assessment is over. Before we dive into the results, we'd like to say a huge WELL DONE to everyone who participated. We know this is a busy time for everyone with clinical rotations, finalizing specialty choices, and studying for exams. Even with all that going on, we were thrilled to see so many Step 2 CK aspirants taking the self-assessment. You guys knocked it out of the park!
Now, let's take a look and see how the self-assessment week went.

The AMBOSS Step 2 CK Self-Assessment took place 3-9 May 2021, with more than 12,000 students in the US participating (and over 20,000 globally!). And you sure were busy, with the number of questions answered in the millions!
How the Step 2 CK Self-Assessment was structured
The self-assessment was made up of four question blocks, each containing 40 questions. Each block was presented in the NBME®'s timed format. Students did not have to answer all four blocks in a single sitting. Nonetheless, we did recommend that students answer individual blocks in a single session to best replicate exam-day conditions.
Outcomes of the self-assessment
After the self-assessment, the AMBOSS data team worked hard to calculate the scores and sent out score reports to every student that completed the self-assessment before May 9. The score report included a 3-digit score, percentile ranking, and personalized study recommendations.
This year, the mean score of all takers of the AMBOSS Step 2 CK Self-Assessment was 230 with a standard deviation of 21. In comparison, the mean score of the reference cohort, which was used to calibrate the score distribution, was 245 with a standard deviation of 16. The reference cohort is defined as those participants who are within two weeks of their actual USMLE Step 2 CK exam date.
If you'd like to know more about how the 3-digit score was calculated, check out this blog post.
Performance by system
The Step 2 CK Self-Assessment covered a wide range of questions and topics that are likely to appear on the real Step 2 CK exam. Analyzing the results of the overall self-assessment, we were able to see the systems that students found the easiest and the hardest.
The systems that most students excelled in were Behavioral Health and Multisystem Processes & Disorders. Whereas the systems that proved to be the most challenging for self-assessment takers were the Immune System, Renal & Urinary System, and Skin & Subcutaneous Tissue. Here's a closer look at the performance by systems.

The question that students answered correctly most often required test-takers to know the correct diagnostic workup of a patient with suspected multiple myeloma. It's encouraging that students answered this question correctly as the Step 2 CK exam stresses communication skills and care provider judgment more and more these days.
The question that students answered incorrectly most often required test takers to connect the findings of a metabolic panel with that of a spinal x-ray in order to diagnose a hematologic malignancy.
The top five recommended articles from the Step 2 CK Self-Assessment are:
How to use your self-assessment results to prepare for Step 2 CK
Along with your 3-digit score and percentile ranking, you will have received personalized study recommendations. These recommendations are based on your performance of topics within the self-assessment and are useful for guiding your remaining study prep.
Of course, we know one of the main challenges preparing for Step 2 is finding the time to study. The AMBOSS apps are great for studying on the go and looking up info. They even work offline so you can use moments of downtime to practice questions in the Qbank app or dive into articles with the Knowledge app.
And that's it for this year's AMBOSS Step 2 CK Self-Assessment! Thanks so much again for taking part. You'll do great!