Average 2020 USMLE® Step 1 Match Scores by Medical Specialty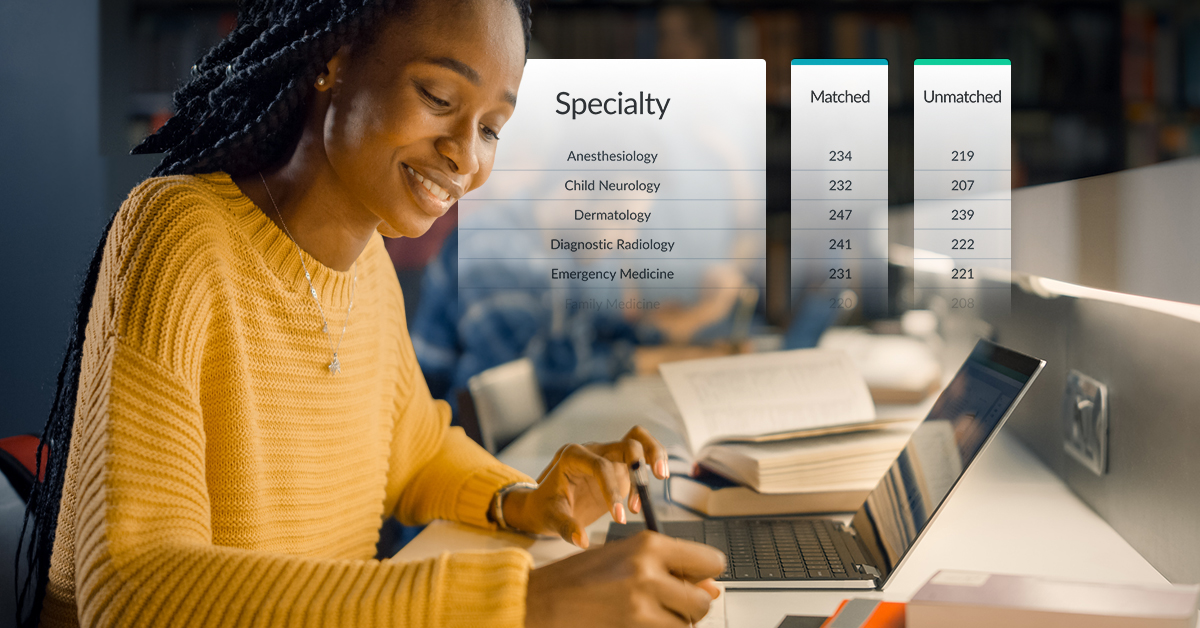 Early in their medical education, students are aware of the importance that is placed on the USMLE® Step 1 exam and their Step 1 score. Widely considered the exam with the greatest impact on your medical school career, the USMLE Step 1 exam will play a large part in determining your choice of medical specialty, the residency programs you match into, and more.
To get an idea of what Step 1 score you will need to match into your chosen specialty, we've created a handy table with all the average Step 1 match scores by medical specialty for 2020. The data comes from the National Residency Matching Program's (NRMP) Charting Outcomes in the Match, 2020 report. We've organized their detailed reports into these digestible charts so you can easily find the information you need. Check out the tables below: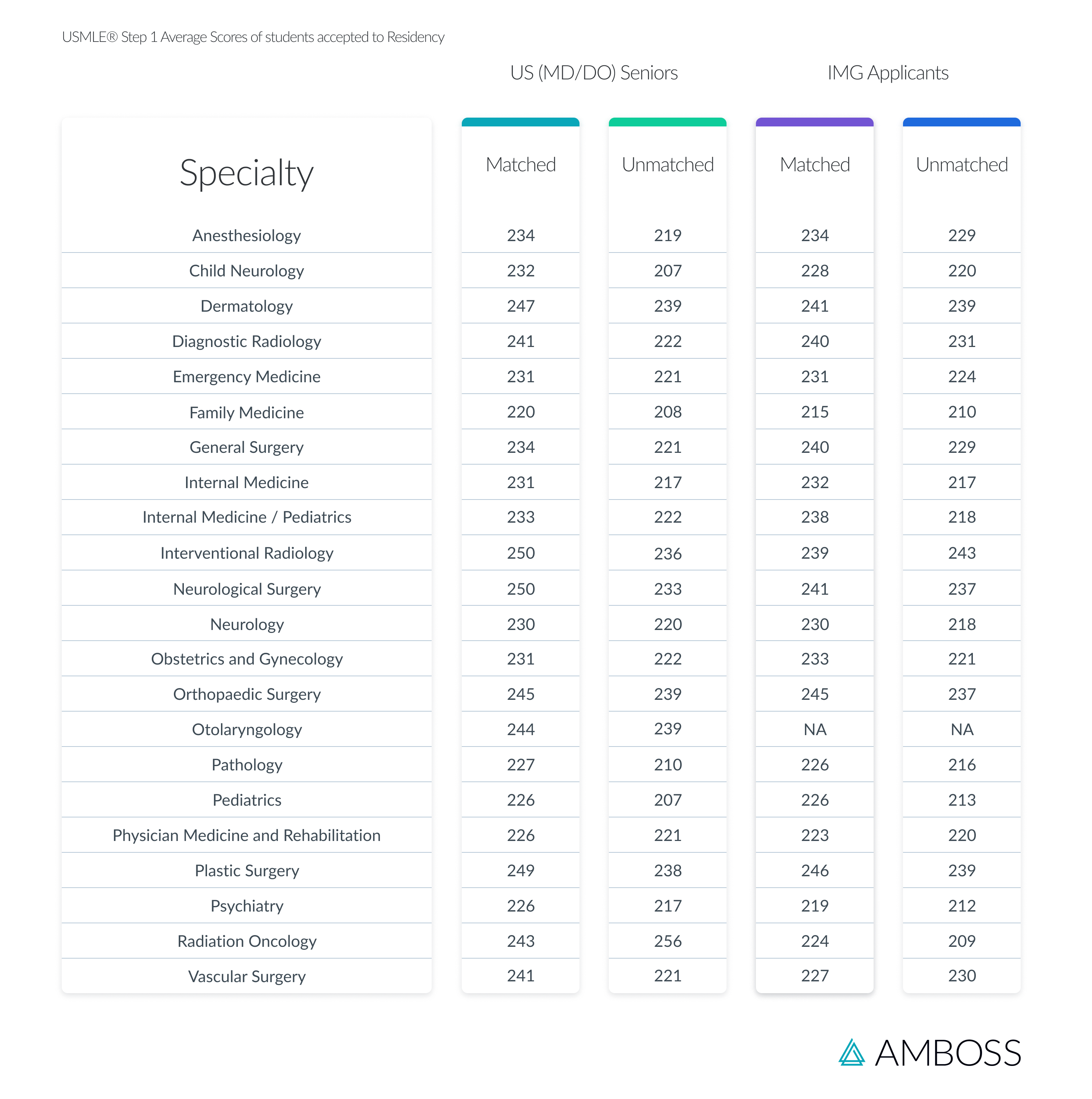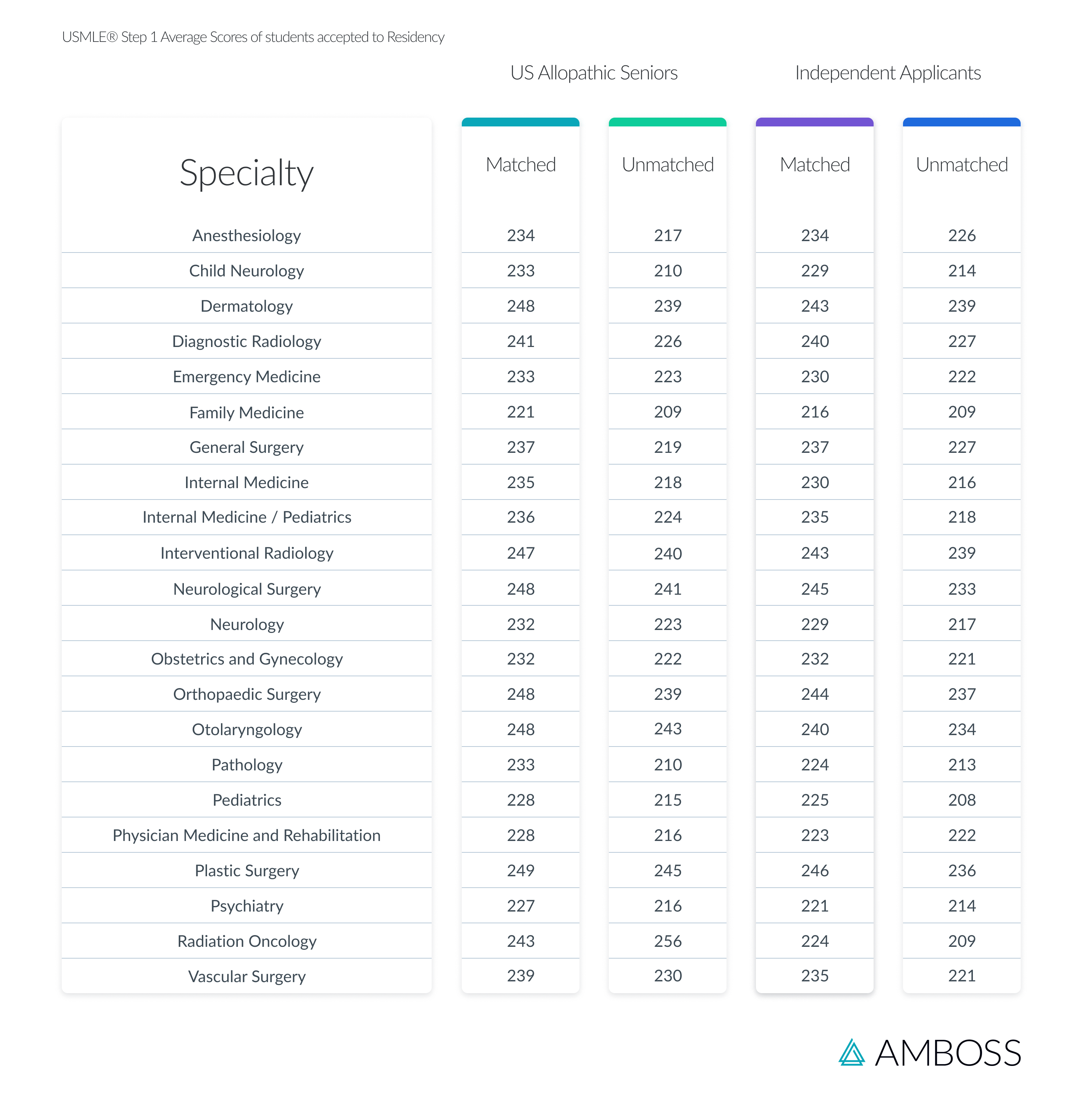 Here are some key takeaways from the NRMP Charting Outcomes report.
The average Step 1 match scores can vary quite a lot depending on the chosen specialty. While matching into any residency is a huge achievement and requires a lot of work and dedication, some residencies are undoubtedly more competitive than others. This is often reflected in the higher average Step 1 match scores for these more competitive residencies.
With this in mind, let's take a look at some of the most competitive residencies and their corresponding average Step 1 match scores for US allopathic seniors.
The most competitive residencies and their average Step 1 match score
Some of the medical specialties that can be considered to have the highest level of competition based on the percentage of filled positions by US MD seniors include:
Integrated plastic surgery - 249
Medicine-pediatrics - 236
Neurological surgery - 248
Orthopedic surgery - 248
Otolaryngology - 248
Thoracic surgery - NA
Vascular surgery - 239
While scoring high on Step 1 can help ensure you match into your desired residency later on, there are many other factors that will also contribute to getting there. These include but are by no means limited to conducting clinical research, getting good letters of reference, having an impressive CV that highlights your medical and relevant extracurricular activities, and having a successful residency interview.
We must also note that the Step 1 exam is changing from its current scoring system and becoming pass/fail in 2022. This will undoubtedly change the impact that Step 1 scores have on the matching process in the future. But, until then, if your Step 1 score falls below the average for the residency you want, it's important to know that all is not lost. There are many paths that will lead you towards a great career.
Chart data: Data is from the National Residency Matching Program's (NRMP) Charting Outcomes in the Match, 2020 report. The NRMP has no affiliation with AMBOSS.
**Only those who gave consent to use their information in the NRMP research are included in the matched and unmatched data.
**Independent applicants include the USMLE Step 1 average scores of students accepted to residency, including Osteopathic, US, and non-IMGs.