AMBOSS Step 1 Self-Assessment Score Calculation Explained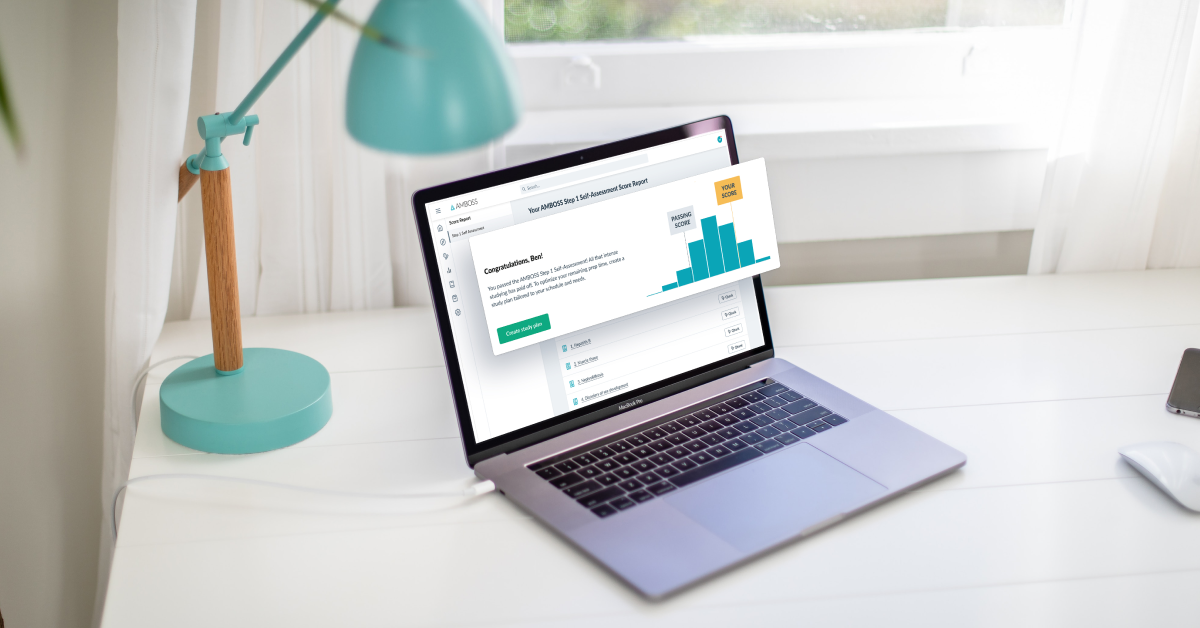 One of the most popular features of the AMBOSS Step 1 Self-Assessment is the 3-digit score. While the USMLE® Step 1 exam is now pass/fail, the self-assessment's 3-digit score remains a really useful tool for gauging your progress. It gives you an idea of where you currently stand in your preparation and acts as a jumping-off point for your remaining studies. It's so popular that over 90% of students surveyed said that they still want to receive a score even though Step 1 has turned pass/fail!
**Note that you must complete all four blocks of the self-assessment by Sunday, February 13, 2022, to receive a 3-digit score.**
How the 3-digit score is calculated
The score you'll receive after completing the AMBOSS Step 1 Self-Assessment is calculated using the performance of self-assessment-takers that are within weeks of their actual USMLE® Step 1 exam date as a reference to calibrate the scores.
The scores of the reference cohort are checked against data from actual USMLE Step 1 exam-takers. The minimum, maximum, and mean scores are all assessed in the reference cohort as well as in the entire cohort of AMBOSS Step 1 Self-Assessment participants to ensure their accuracy. We also use the performance data from previous years to iteratively improve our score prediction.
Releasing the scores
This year, the score reports will be sent out on Wednesday, February 16, 2022. Only those who completed all four blocks of the self-assessment will receive a 3-digit score. We know you'll be eager to get your hands on your score as soon as possible and we're determined to give it to you while making sure it's as accurate as it can possibly be. To do this, we must wait for all participants to complete the self-assessment. This way, all the necessary criteria of the test-takers will be included which means we can provide you with an accurate score.
How timing impacts the score
While the 3-digit predicted score can be a useful indicator of your current preparedness for the real Step 1 exam, timing is an important factor to consider when assessing your score.
If you're months away from the real thing, then chances are the score you get in the self-assessment won't reflect the results you'll ultimately achieve. It's important to keep this in mind and not become disheartened if the score isn't what you hoped it would be. This is simply the jumping-off point for the remainder of your study period.
Students in many different phases of their Step 1 studies agree: "I took [the AMBOSS Step 1 Self-Assessment] pretty early on and it was useful to pinpoint my weak areas… I would definitely recommend doing the AMBOSS Self-Assessment, especially early on in Step 1 prep," said Clifford, who attends Icahn School of Medicine at Mount Sinai.
If you are within two weeks of test day, then the AMBOSS Step 1 Self-Assessment is best used to familiarize yourself with the interface and the timed nature of the exam. The goal here is to hone your test-taking and time management strategies. You can read a more detailed guide of how to use the AMBOSS Step 1 Self-Assessment at the various stages of the study cycle here.
How to use the score report to improve your studies
The score report you receive after completing the self-assessment is one of the most useful tools available for structuring the rest of your study period. Along with your score, it provides you with a detailed analysis of your performance as well as personalized study recommendations based on your strengths and weaknesses.
These personalized study recommendations are one of the most beneficial features. Based on your performance in the self-assessment, they will identify the high-yield areas that you should focus on. The topics are matched to corresponding Qbank sessions, so you can jump straight in and become an expert in the areas you struggled with during the self-assessment.
As Samuel C., MD-PhD Graduate Trainee (GS-1) at the University of Alabama at Birmingham Heersink School of Medicine said: "When it came to Step 1 prep, the self-assessment was the perfect first step in getting ready for dedicated studying; not only were questions well made and the test at the perfect time to give me a "baseline" of where I was at knowledge-wise but also, the in-depth explanations (linked to the AMBOSS library) provided an unparalleled review depth and integration after receiving the score report. "
What to do if you get a score you don't expect
Many students look at self-assessments as a predictive tool that can be used to set expectations for the real thing. While there is some value in this approach, it has its pitfalls.
In the case of a low self-assessment score, it can be easy to become dejected or disappointed. While this is understandable, such a reaction can weaken confidence and motivation. If these feelings take root, they can have an impact greater on performance than any seemingly objective measurement of performance. That's why it's important to place things in greater context: a self-assessment is an imperfect tool that should be used as a guide for the remainder of your Step 1 prep.
Likewise, it can be easy to become complacent after receiving a score that is higher than your initial expectations. In this case, perhaps the test-taker's studies have been more rigorous and comprehensive than they had initially thought. Alternatively, medical students often have high standards for themselves and may chronically underestimate their strengths.
No matter the reason, the core insight remains the same: the 3-digit score is simply a jumping-off point for your future efforts. Keep up the hard work because the more prepared you are for Step 1, the greater chance you have of passing with ease and scoring high on Step 2 when the time comes.
Make the most of your dedicated study period with the AMBOSS 30-Day High-Yield Study Plan.