Partnering Up with the American Medical Women's Association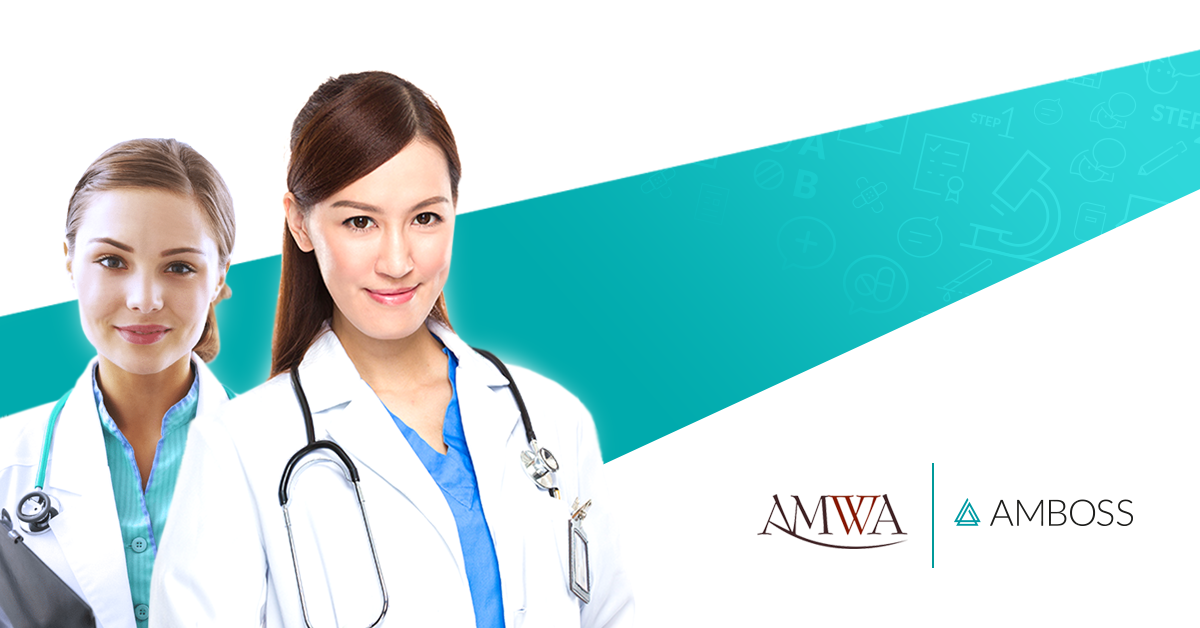 As medical students, we seek to act as agents of positive change in society and in our communities. We hope to promote good health and apply our skills to help heal and care for others. Often, this motivation to assist comes through diverging, while not unrelated ways. Student associations, for example, can serve as ideal channels in those cases.
While student associations give emotional support, offer financial opportunities and connect students with professional networks, they also unite members behind shared philosophies and missions. Such is the case with the American Medical Women's Association, or AMWA, an association that celebrates pioneering women in medicine and promotes gender parity in the field. For over a century now, it has attracted dedicated women medical students who want to be a part of their legacy.
We at AMBOSS will be supporting that legacy via an exciting partnership with the AMWA. We're thrilled to announce we'll be offering special benefits to its members, including free access and a variety of scholarships.
---
How students benefit from the AMWA
The AMWA's mission is clear:

"The American Medical Women's Association is an organization which functions at the local, national, and international level to advance women in medicine and improve women's health. We achieve this by providing and developing leadership, advocacy, education, expertise, mentoring, and strategic alliances."
And many women medical students easily align themselves with it, like Sahaja Atluri, an M2 at the University of Missouri–Kansas City School of Medicine. We spoke to her about the importance of AMWA, the support she has received through the community and why women should reach out to each other as they pursue their careers in medicine. Sahaja's experience and beliefs have nurtured a strong philosophy about what it means to be a woman in medicine, and we are proud to acknowledge and share her voice.
Why is AMWA important to you?
Medicine is a difficult field, especially for women. We walk the fine line of being judged as aggressive and demanding versus soft and family-oriented. We are constantly tested on whether we can juggle our responsibilities between family and work. AMWA is important as it builds a network of women who care for each other. A platform where women can share with each other our hardships, successes, vulnerabilities, and strengths. AMWA also gives younger women an opportunity to emulate the path of their mentors, allowing us to form our own career path by seeing what our mentors' paths look like. I was told in my early years that it takes a village to make a woman a doctor, and I truly believe that AMWA is our village.
How can women in medicine be better advocates for each other?
The true measure of a woman is how she speaks about other women. I believe women can be better advocates for each other by speaking positively about each other, and by making a positive impact on other women. We should offer advice that uplifts each other, set the platform for self-advocacy, promote each other, and truly celebrate each other's wins. Because where jealousy lives, growth does not have a place. Most importantly, I believe we should be able to share our vulnerabilities and grow closer, without the threat of being betrayed or exposure.
How can women build confidence as they go through medical school?
Women can build confidence by building networks and developing skill sets from those networks. As women go through medical school, it becomes important that we develop skills such as emotional intelligence, adaptability, or ability to work under pressure. Medicine is a tough field as it is and expectations are set high; we are not told enough times that we are doing a good job, and in moments like this, it is essential that we build each other up by encouraging each other and teaching each other. I was told at a young age that, "Behind every successful woman is a tribe of other successful women." Confidence is built in having a strong skill set foundation and in the togetherness of a network of women who support us in our ups and downs.
What are common challenges for women in medical school?
Working in medicine sometimes feels like working in a man's world, there is a constant pressure to prove yourself to show that you can do what a man does (and in some cases, do it better). Other times, your patients will treat you as inferior to your male counterparts, or they might refer to you as a nurse instead of a doctor. Sometimes, it can feel like we are not smart enough, or that we are not correct, or even that we might not belong here; it can feel like we are imposters. During these times, AMWA upper years guided me through hardships and made me recognize that everyone is on a growth curve. Everyone brings different talents and it is okay to ask questions, it is okay to not know everything, but what is essential is to have a consistent strive towards learning so that we may become better.
How do you feel AMWA supports you?
I believe AMWA supports me by providing unique relationships with other women in the field. AMWA is a platform where women guide each other to success in the field of medicine. AMWA also gives women the voice to share our stories and impact other women, which is key in really understanding what medicine is and can be, and how we can better prepare ourselves for those challenges that lie ahead of us.

AMWA is an empowering organization that I am proud to be a part of, my local chapter does such an amazing job bringing the women of my medical school together and I'm truly grateful for those opportunities that have led me to build such unique relationships that I truly value, making my medical school journey more worthwhile.
---
About the AMBOSS-AMWA Partnership
Together, AMBOSS and AMWA are offering a variety of new benefits to women medical students. All members can add one month of free AMBOSS access to their accounts, or they can apply for one of two available AMBOSS scholarship grants. You can find out how to get free access to AMBOSS on their website. To apply for the scholarships, keep an eye out for AMWA's communication and website for news on the details.